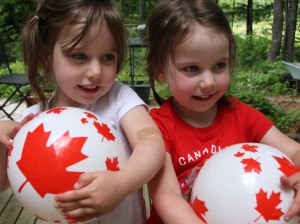 Canada Day happened to coincide with two things: a) our twin grandkids, Lucy and Ellie (3 years and 3 months old) arrived around noon after a trip on the Digby Ferry and, b) it was the first day of The July Project (TJP).
Knowing there were some Canada Day celebrations at the Yarmouth South Playground, I thought it would be fun to make the 20 minute trip into town with Barrie and the puffins.
The girls enjoyed getting flowers painted on their cheeks, watched a local dance troupe perform, and had fun on the playground equipment. Alas, I was using a new-to-me camera for this hunk of the day, and err, ahem, it didn't have a card. Not knowing this, however, I clicked away, feeling pretty chuffed about having such great captures.
I only discovered the "no card" scenario when I went to retrieve the photos tonight. Although I don't have anything to show from our time at the playground, a head-full of memories surfaced from this part of town.
Verna MacDonald–one of my best buds at Saint Ambrose Elemetary School–lived on Barnard Street right next to the playground. It was such a treat to go to her house after school and to be invited to stay for supper. Her mother often cooked hash, made with mashed potatoes, canned corned pork, onions, and sometimes mashed turnip. I so loved that. In fact, I bought the ingredients and plan to cook it tomorrow.
But a couple of things hit home about South End. Unless I'm going to Emin's Meat Market (arguably the best place in this part of the province to get store-made sausages, double smoked bacon, and mouth watering steaks)  there's little reason for me to go to that part of town. Or so I thought.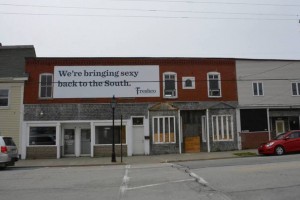 Unfortunately, South End has a bad rep. Sure, it's the seedy side of town. But there's buckets of history; lots of characters; and plenty going on. It has a pulse and a heartbeat. (Check out this photo … makes me smile. Big story behind this! More later.) I'll be going back during TJP and letting you know when, where, and why.
So, heading there today got me to thinking of people and their names. A story from years ago came to mind. When a new youth program started there, the Bishop came calling to meet the young people. Charlie Paddock stood at the head of the line, taking care of introductions. When one of the boys stepped up to be introduced to the Bishop, Charlie could only remember the boy's nickname. Unfortunately, thinking the nickname wasn't appropriate for a cleric, he asked the youth to give  the Bishop his name. The boy piped up, I'm "Shitstick."
I decided to call Charlie today and yak about nicknames. We had a good yarn; he suggested I call Patty Crocker. Collectively we remembered some of the guys—like  Hot Dog, Bimbo, Sweetie Pie, Cowboy and Conky. Some of the gals were called Tootsie, Chicken, and Lotty Pancake. Everyone in one family was called Patch Ass. Many of those folks are still alive and with any luck, I'll meet some this month. Speaking of nicknames, a few weeks ago, Melanie and I came up with nicknames for each other. She is Mae Belle; I am Sandy Pines. Rather tame in comparison.
Meanwhile, back home, I made a few notes about going back to South End to dig deeper. Already I've been invited to Rosemary Guyette's home, which happens to be where Yarmouth's first hospital was located—smack in the middle of that part of town.
Oh yes. The puffins? Before going for a skinny dip back here in Canaan, we had a merry walk in the woods. (For some inexplicable reason they decided to wear their life jackets over their tutus for the excursion.) I showed them some ferns, and how to scrunch Sweet Grass with their fingers and inhale the fragrance. When I said, "I love the smell," Ellie replied, "I lub it too." Then Lucy presented a fistful to the dog, and said "Smell Alaska. Smell."
ps. Today was a great reminder to take the time to remember. And to smell.