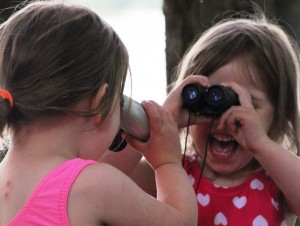 Dear readers, I'll try not to bore you with the antics of the twins. Suffice to say by the end of the day I was blithered. Wondering out loud why I felt so spent, Barrie said, "Take a look at your birth certificate." Oh. That small matter of being 70 vs 3 years old. It's a bit puzzling tho' how I can manage a 5-day wilderness paddle with demanding portages and keep my energy level up yet 36 hours with the twins and I'm wiped out.
Meanwhile, in spite of being run ragged, (and late with this post) I think there are some wonderful tidbits to share about Yarmouth that even locals may not know.
To wit: at some point yesterday we ended up at the Yarmouth Library. Although I knew there was a kids section, I had no idea that it includes a play area. Great place to keep occupied for awhile. I also didn't realize there are lots of programs for kids.
For example, this coming Saturday afernoon, Aubrey Hilliard is going to be there with a program called "Play with Science: Snakes." The twins will love that. Not sure about yours truly.
Before leaving, we decided to wear them down a bit by letting them run around in the park behind the library. Sorry to say, I've never been there. The big surprise for me was the handsome arrangement of tombstones imbedded in a lovely monument. I'd heard that the library itself was built in a cemetery, and the field behind it was more than a field; this is true.
Lucky for me, a friend loaned me a book titled Life how short; Eternity how long—Gravestone Carving and Carvers in Nova Scotia, by Deborah Trask. (It's also in the reference section of the library.) Better yet, I was able to track down the author and she's agreed to meet with me sometime this month. Deborah told me that Frost Park, just across the street from the library, "… is no park but the original common burial ground for Cape Forchu"—another tidbit I didn't know.
I've never paid close attention to the carvings of headstones in cemeteries, but from the looks of this book, there's a lot of fascinating stories. It's time to get out my look-up-close glasses. Much like the kids did in the park when they spied a patch of wild strawberries. Now I have to tell you, that requires a lot of focus and paying attention to detail, as wild strawberries are smaller than flies (and tastier too!)
It took me awhile to spy the little bits of red imbedded in the grass, but once they came into focus, that's all I could see. Insight: when you try to take in the whole picture, it's not possible to see the details. Need to let the big picture fade and find a spec to beam onto.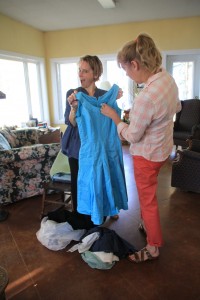 Another institution in Southwest Nova Scotia is called Frenchy's. There are several in this part of the province and they all have their own charm. For the uninitiated, Frenchy's, a.k.a. "The French Boutique" is a chain of second-hand clothing stores. Most of them have toys and stuffed animals (and why we brought the twins there), along with briac-a-brac –everything from dishes to carpets and skiis.
When Melanie visited me to work out details of TJP, we did what's referred to as a "Frenchy's run."  Pictured here is Mae Belle showing off some of her loot. But it's much more than a place to shop for bargains. It's a place to meet old friends and to make new ones. Some people go there to socialize. Some go out of necessity. Some go to find extraordinary buys and resell on the Internet.
Years ago I met a friend's mother in the grocery store. She commented on my coat and when I said, "It's my latest Frenchy's find," the 80-year-old's blue eyes lit up and she pulled a wallet from her purse. Liona  had purchased the wallet at Frenchy's a few weeks prior, and when she got home she discovered five US bills. "And that's not all!" She turned and introduced me to a gentleman inspecting vegetables behind us. "This is my boyfriend, Phillipe, –  and I found him there too!"
The "finds" at Frenchy's are legendary. One woman bought a necklace thinking the stones were cubic zirconia. A local jeweller determined it was a diamond necklace valued at $6000.
It's not uncommon to find Louis Vuitton purses and designer labels including Jones of New York, Valentino, Yves Saint Laurent, Ralph Lauren and Givenchy. (I've found Brooks Brothers, Bill Blass and Eddie Bower shirts and pants for hubby.)
Only at Frenchy's.
It all started around 50 years ago when Edwin Theriault put a bale on the back of a pick up truck in Boston MA and drove to Clare NS. "I had time to unload it when all the women of the neighbourhood dove into the bale and wanted to buy, buy, buy."  The demand escalated; he then made arrangements with the local truckers who delivered fish in Boston, to pick up three and four bales before they headed back home. After a few months, he started to order tractor trailer loads.
The rest, as they say, is history.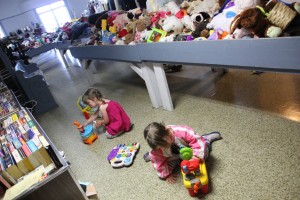 Back to the twins … we've already been to two different Frenchy's; one more to go.
ps … even yours truly discovered a find of the day–a dozen white plates. They are bigger than side plates yet smaller than dinner plates. Perfect for snacks and light lunches.
A buck each. Yeah.