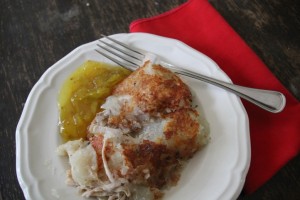 It's been said that food is the most primitive form of comfort. And I'm here to tell you that a dish called "râpure," a.k.a "rappie pie" is the ultimate comfort food in my books.
But it bears no resemblance to what we normally thing of as a "pie." In fact, visually it's downright unappealing, and looks like a blob of thick gray glue with small hunks of meat mixed in. Yet, mention rappie pie in certain parts of Nova Scotia and people's eyes light up, their taste buds start to dance, and they shiver with anticipation—including me! For rappie pie fans, the visual aspect is nothing to fuss about. It's all about flavour, tradition, homecoming, family—and a good measure of Acadian pride in preserving this recipe.
As far as I can determine, râpure doesn't exist anywhere else in Canada except in parts of Southwest Nova Scotia, like the Clare area, Yarmouth, Pubnico and Wedgeport. In these regions, it's a household name and featured in many restaurants. Yet, wander out of this geographic area (about a 40-mile radius) and you'll be hard-pressed to find anyone who's ever heard of it.
Because I made a batch of rappie pie yesterday and had a couple of willing helpers, I'm using them to illustrate my wee story about rappie pie. (You'll hear more about the Acadian communities in days to come.)
Rappie pie is made with finely grated potatoes. After the liquid is extracted, what's left is white pulp. As it takes a lot of time to peel, grate and squeeze the liquid out, I buy 2- lb or 4- lb blocks of pulp which are prepared commercially here in the region, and sold in grocery stores. For this batch, I used the largest size.
Rappie Pie lesson 101
First, boil a chicken in a big pot of water; remove chicken and cool, save broth.
Separate chicken from bones and chop up 2 big onions.
Heat broth to boiling again + add lots of salt and pepper + the onion. Pour 20 cups of the hot broth (5 cups at a time) into the pulp and stir well every time.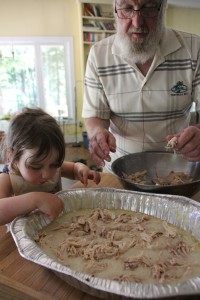 Pour about 1/3 of the pulp mix into a giant greased pan. Here, the sous chefs spread the chicken pieces over the top. Then I covered everything with remaining mixture.
Stick fingers in for a taste test. Repeat as often as you like.
Add small hunks of pork fat on top (dime sized)  and bake for 3 hours or so. It will help to form a lovely brown and crispy top.
In the olden days, the Acadians often put duck, geese, rabbit, deer, pork—even clams in rappie pie. Some still do. It's delicious any-which-way. Rappie pie is usually served with butter and can be accompanied by chow-chow, cranberry sauce or molasses. Putting ketchup on rappie pie is considered a sin.
So, that's my quick post for today folks … back with local road tales tomorrow!
ps  Would love to hear your thoughts on rappie pie (or any other favourite local dish you enjoy?!)