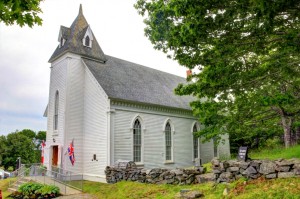 I credit Bach with restoring my sanity (or at least restoring my equilibrium) after getting up close and personal with snakes.  So I'll start with Bach, and the rest will follow.
The combination of having a couple of hours with adults and listening to some superb chamber music in this church was the perfect antidote to sharing four days with the twins who seem to be clones for the energizer bunny.
As I walked up the stairs of the Argyle Historic Church (built between 1877-1887), I could hear a classical strain from Bach's Quintet in C major Op. 11 #1. Mind you, I didn't know the exact title of the composition, but I did know that it was a composition from J.C. Bach—and not the score from a Dr. Seuss movie.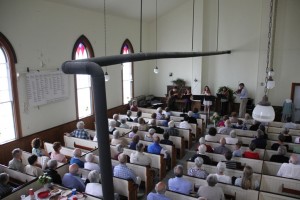 The musical troupe Argyle Lodge Chamber Players led by Randy Hiller was in fine form. Randy hails from Massachusetts, and performs with Emmanual Music, Cantata Singers, and the Lexington Symphony. Several years ago, he and his wife bought an old, elegant hunting lodge in Argyle, which has become a summer refuge for them as well as their musical friends.
Now, every summer, Randy and his guests give a concert in this church, and the proceeds are donated to the Argyle Historic Church Committee to help with restoration and preservation.
Part of the performance included a selection called Quartet for 4 violins by G. Bacewicz. Although it began slow and sleepy, it soon sounded like 44 feisty violin players were trying to outdo each other. In some spots, I didn't know whether to dance, sing, or weep. I've since learned that Bacewicz is a Polish female composer and violinist. Here's a random rendition of the same piece found on YouTube.
Following the concert, I wandered around the Old Burial Grounds. In the early days, fieldstones were used to mark the graves. Some have simple lettering such as "OCG" and "WBH." The oldest stone is "1776 JFA50" and is believed to be the gravesite of Capt. Jeremiah Frost, who died in 1776 at the age of 50.
Caleb Slocum is buried here. He was a warden of the Municipality of Argyle and uncle of Joshua Slocum—the first man to sail alone around the world and write about it. Alas, in November of 1909, Slocum disappeared aboard his boat, the Spray.
Above the old burial grounds is the more modern cemetery. It's large, lovely, and manicured in comparison to the dark and weed-strewn section below. Yet, I couldn't help but feel a bit exposed in that upper section. It feels almost sterile in comparison.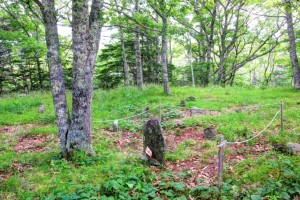 I also picture the "residents" gritting their teeth every time a lawnmower passes over. My choice would be to be buried below; it's much more private and intimate.
I especially appreciated the fact that there were no gaudy plastic flowers here although I wondered about the small Canada Day flag placed at the base of one stone. Somehow, that seemed endearing more than for show.
Backing up a bit: around noon our daughter Margo joined the twins and me as we set off to the Strawberry Festival at the Lake Vaughn Fire Hall—about a 12 minute drive from my home.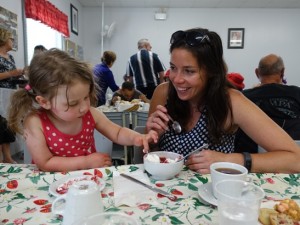 I can't believe that I've lived in this region for over 40 years and have never attended this festival. God only knows how many volunteers it takes to pull this off, but there seemed to be a never-ending supply of cold plates (ham, potato salad and cole slaw), rolls, strawberry shortcake, tea/coffee and sweets galore. Outside, the firemen had several BBQs  on the go; and inside one of the garages was a giant flea market.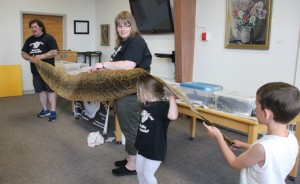 But the highlight of the day came later when we went to the Yarmouth Library to see Aubrey Hillyard's snake show. At some point he unrolled the skin of a 16 ft. Burmese Python. This was the first snake he ever raised, and he's been breeding them ever since.
Aubrey now owns about 100 adult Ball Pythons (Python regius), so-called because when scared, they roll up into a ball. As they are relatively docile, they are the preferred snake for breeders who sell pet snakes. Aubrey currently has around 30 baby snakes and plans to quadruple that this year.
He also raises and sells about 10,000 African Soft Furred Rats (ASFs) for snake food, adding "Pythons love them. I raise them on a premium rodent diet, and add lots of fruit and vegetables. Then I euthanize them with Co2 gas, freeze them and sell different sizes in 6-packs. (Not to be confused with beer.)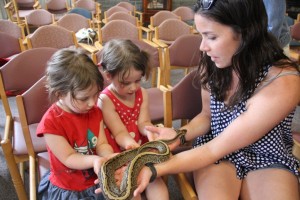 Lucy and Ellie were mesmerized by the display and felt pretty grown up to be able to hold one of the pythons. Me, I kept my distance and was happy to take photos. For a walk on the wild side I checked out Aubrey's FB page, Pinnacle Pythons.
A recent post shows a snake curled around several large white eggs. It reads, One of my 2 most anticipated clutches. Female is het ghost 50% het clown father double het for the same. 4 good eggs, one big clear and 1 boob. Now for the wait.  I called him and asked what it meant.
A half hour later, my head was still spinning. Let's just say that these are standard generic terms and snake lovers soon learn the lingo.
But here's the clincher: I assumed that Aubrey had come in from the city of Halifax (350 km away)  to give this demo. Nope. He and his family live in Belleville.
As the crow flies, that's about 8 km from his house to mine. GULP.   I wonder how long it takes a python to slither 8 km?
Any snake stories to share? Or a great strawberry festival to attend? Or a "wow" wee church that doubles as a concert venue? Would love to hear from you!