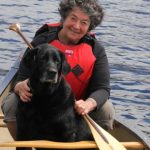 TOURISM STAKEHOLDERS … HOW TO GET YOUR STORY OUT THERE
Learn about the importance of target markets and how to increase visitors to your operation/location. You'll also learn the importance of knowing what your story is; useful tools to promote your place, product or service; the benefits of partnering:  and how to make the best use of travel writers.
This workshop is ideal for anyone involved in the tourism industry, including owners and staff at museums, galleries, parks, accommodations, restaurants, theatres, festival and event planners, outdoor experiences—you name it! If tourism is important to you, this workshop is important for you to attend.
Time: 9-12 ; Fee: $60
To register: contact me sandracphinney@gmail.com 902 648-0462 or Laurie Glenn Norris edu.assistant@jogginsfossilcliffs.net 902-251-2727 ext 224
Saturday, June 4: MEMOIR WRITING: Making your memories work for you.
This memoir workshop appeals to a variety of ages, writing abilities and interests. For example: seniors who wish to write vignettes for their children and grandchildren; people who are journaling; volunteers from museums, libraries, or different community organizations who are writing newsletters or booklets; freelance writers who are interested in writing stories or essays for pay; scrapbookers who would like to write short stories to accompany their photos; and anyone who wants to write a book focused on their memoirs. Contact: Laurie Glenn Norris edu.assistant@jogginsfossilcliffs.net or me at sandracphinney@gmail.com
Time: 9:30 a.m. to 4:30 p.m.; Fee: $125