I'm on a three-day paddle with Carol and Gerald Jacquard, their dog Bandit, and my husband Barrie. We're paddling in a region close to where we live that encompasses three lakes (Quinan, Big Gull and Great Barren), some still waters, and several islands. If I tried to describe the essence of this trip, I would fail. So much for being a writer. Mercifully there are times when a  photo tells a story better than I do.  So this post will be more photos than words although I'll insert stuff here and there. Just because.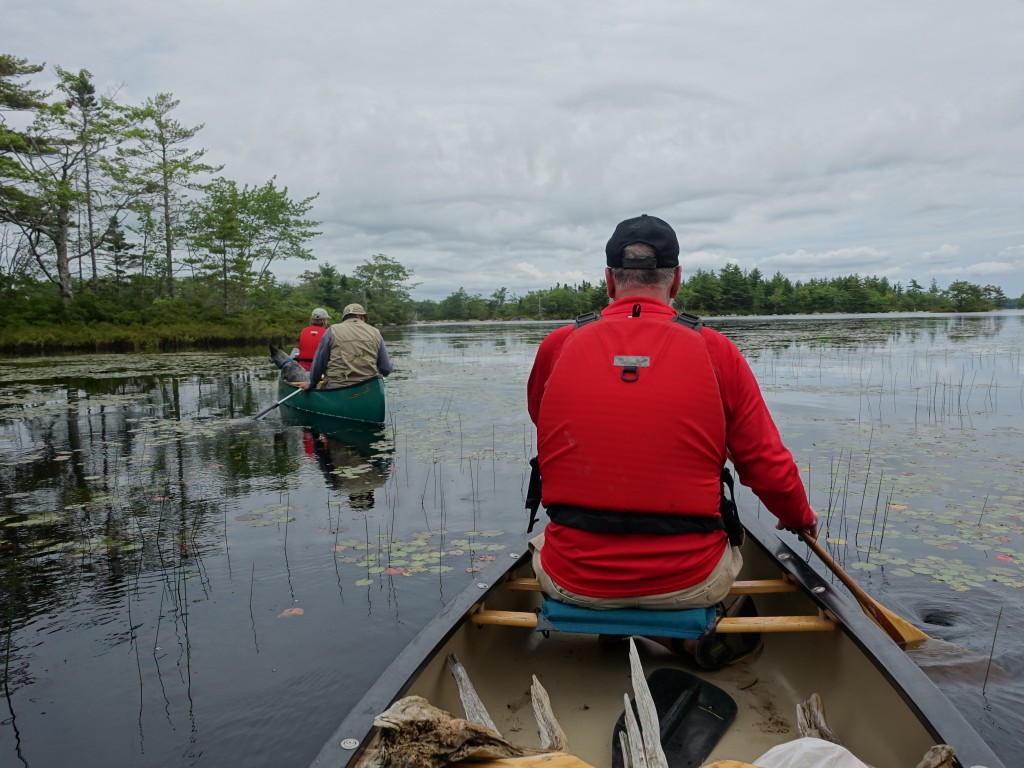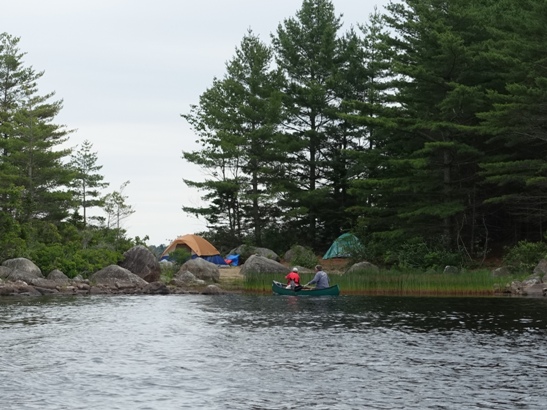 Wildlife photographer Peter Dombrovskis once said, "When you go out there, you don't get away from it all. You get back to it all. You come home to what's important. You come home to yourself."
Of course, a trip wouldn't be a trip without something weird (or stupid) happening. So picture this: we are nearing the end of day 2 and heading back to camp. We are between Big Gull/Great Barren and Quinan Lake. There's precious little firewood on the island where our campsite is located, so we're looking for driftwood along the shores between Gull and Barren.
I spy several worthy specimens; Barrie and I pull up to a big rock close to shore which conveniently has a ledge. I get out of the canoe, pick up an armload of driftwood and proceed to get back into the canoe.  I still don't know what happened … but I do know that Barrie and I both ended up in the drink and had to bail out before getting back on our way.
For some reason or other he seemed to lose interest in getting more driftwood. Never mind. We "made do" and had a great campfire that night.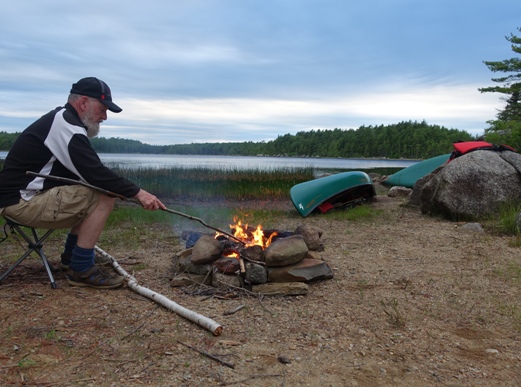 There are extraordinary paddling places in this part of the province. In fact, Barrie has started to compile a list for the Southwest Paddlers Association. Worth checking out. The list includes reference points for this trip.
Trip bonus: Carol knows heaps about nature. She helped me identify some flowers, plants and bushes.  The only thing I was sure of, was was highbush blueberries. There's nothing like stuffing a fistful of fresh blueberries in your gob. There should be a good huckleberry and cranberry crop.
Although we didn't see any on this trip, I learned that shadbush (a.k.a Indian pear, service berry, Saskatoon berry) is common in our region. The second photo in this grouping below is shadbush growing on Carol's property. I'm now a convert and looking for it everywhere I go.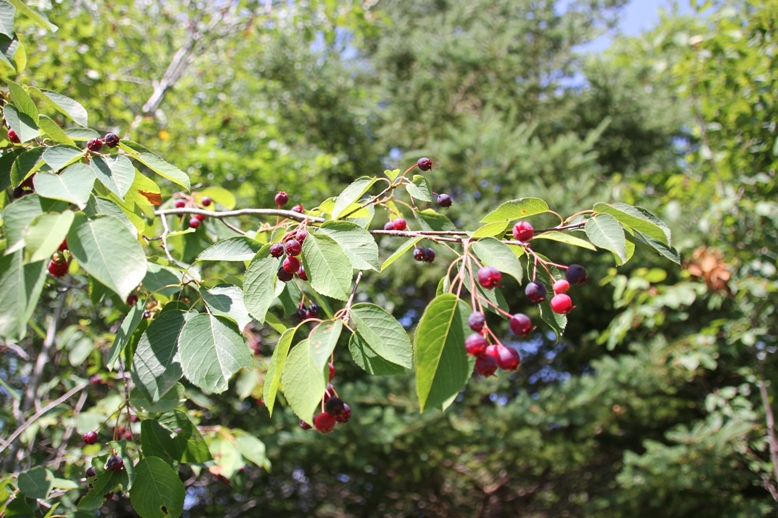 I also learned that there are some unusual things that are edible like Rock polypoddy–a short fern-like thing that grows in clusters on top of rocks. It can be cut and steeped for a tonic in the spring when the ferns are young. Although we didn't find wild cucumber on the island where we camped, it's also quite plentiful in the region. The L-shaped root is crunchy and sweet.
And, oh! the flowers. They are everywhere–along the shorelines, in the forest, even sprouting out of the water. The top one is a Calopogan, a small orchid the size of my thumb. Don't know what the grassy one is called but the patterns on the water made me giddy.
I've paddled many places in Atlantic Canada, but this Quinan trip is one of my favourites. And it's less than a hour from my doorstep. Do you have a special place to paddle … or to get away from it all?
Do tell!