I can count on one hand the number of times in living memory that I've worn a dress; and can count on one finger the number of times I've worn a hat (a borrowed one at that.) The hat came from Susie Sweeney's fine collection, and I wore it when Susie, Helen Hall and I attended the St. Thomas Church Historical Tea in Weymouth today.
Yep. Dress and hat. Me. Oh my. I felt like a grand dame puttin' on the Ritz. Alas, no photos of us at the tea. Matters not.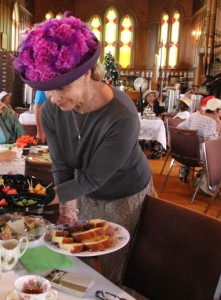 But the food! For  $7 bucks, we were served a never-ending selection of sandwiches and sweets, including every kind of sweet bread and squares imaginable—and the calories to go with them. I confess to having seconds of some heavenly pound cake loaded with gumdrops. And the tea was surprisingly delicious. So often tea served at public events is strong and bitter. This was flavourful and smooth; just right.
But it wasn't only the food that was delicious. Spending time with two friends I normally only see at meetings was also "tasty." (Tasty is a term my mother used. It had nothing to do with food. Rather, it meant that something tickled her fancy; it was both pleasant and pleasing. )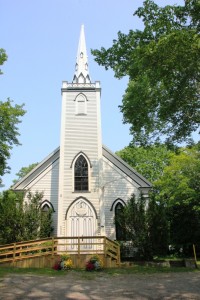 The bonus of the day was that we planned to have time before and after the tea to poke around the region. But before I tell you about our side trips, let me add something about the church where the tea is held. By the way, wearing dresses and hats not compulsory. But you know, when in Rome …
Although these historical teas are held every Thursday afternoon during the summer, it's worth visiting St. Thomas any day of the week.
Why? The front part of the church houses a mini museum, which has a lot of curios including a small tree that's decorated with tea cups.
What especially took my eye was a replica of The Electric City. It was created by a local scout troop a few years ago and was made by gluing 10,000 matchsticks together. Kind of boggles the mind knowing the amount of time it would take to make this.
Bordering Langford Lake and the Silver River (inland from Weymouth), The Electric City was a family operation led by Jean Jacques Stehelin. He came from France, built a homestead for his family of 14, and created a massive lumbering operation. In the process he had electricity going in the compound in the late 1800s—before Halifax did—or so folks say.
I won't go into more detail right now as I'll be visiting the site later this month and will have a lot more to share about this story later.
Before going to the historic tea, we took a little detour inland to visit the Bangor Sawmill in Clare. Records dating back to the 1680s indicate that the Acadians—skilled millwrights and sawyers—operated water-powered sawmills throughout Nova Scotia. At the height of sawmill production, there were up to 10 water-powered mills on the Meteghan River system. The Bangor Sawmill operated with a cast iron turbine called "Little Giant," which turned the saws and other machinery.
Now here's a bit of trivia for you: by 1871 there were 1144 working sawmills in Nova Scotia and 1126 of them were water-powered. The Bangor Sawmill is one of the last functioning water-powered turbine sawmills in North America.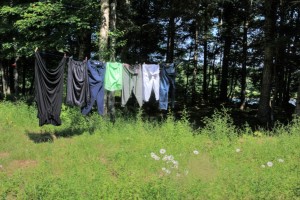 After the tea, we headed to one of our favourite Frenchy's, just on the outskirts of Weymouth. I never, ever come away from this one without an armful of loot. Today was no exception. Here's a photo of my cache after a spin in the washer. Not bad, eh? Susie got a gorgeous Duvet cover to match her newly painted bedroom walls, and Helen found some interesting books.
Now the day did not end here. Husband Barrie met us at Frenchy's, where he found a much needed pair of jeans. After bidding Helen and Susie adieu, Barrie and I headed to the Goodwin Hotel, back in Weymouth, for the night.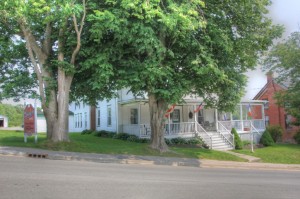 Although I had lunch here about 10 years ago, I've never stayed in the hotel, nor did I know its history. For starters, it's been around for about 125 years (c 1890). There's a letter from a guest posted on the dining room wall that's date 1897 so it's at least that old. Walking into the Goodwin Hotel is like stepping back into the 60s.
The current owner, Patricia (Pat) Comeau is a fixture herself. She and her husband, Arnold, bought the 10-room hotel 45 years ago. After he passed away three years ago, Pat decided to carry on as she's always done. She still runs it with the help of her two sons and some part-time staff.
Pat does everything from managing the front desk to changing beds and serving meals. She's also a rug hooker. Every chair in the dining room features her handiwork; several of her tapestries grace the walls.
We decided to have dinner at the hotel, and, to my surprise, smoked haddock in cream was on the menu. My mother used to cook it (lightly poached in milk and laced with butter, salt and pepper.)
The meal included mashed potatoes and a selection of cooked-just-right veggies. Everything was beyond wonderful, and I'm sure Mama was nodding her approval from on high. Barrie had fresh haddock, and gave his nod of approval.  We were too stuffed to manage dessert but from the looks of coconut cream pie at the adjoining table (and the oohs and aahs), it was a big hit.
There's more to this Weymouth story … but it takes place on Day 10. "To be continued…"  as they say!
Anyone have any stories about attending teas? Staying in old hotels?