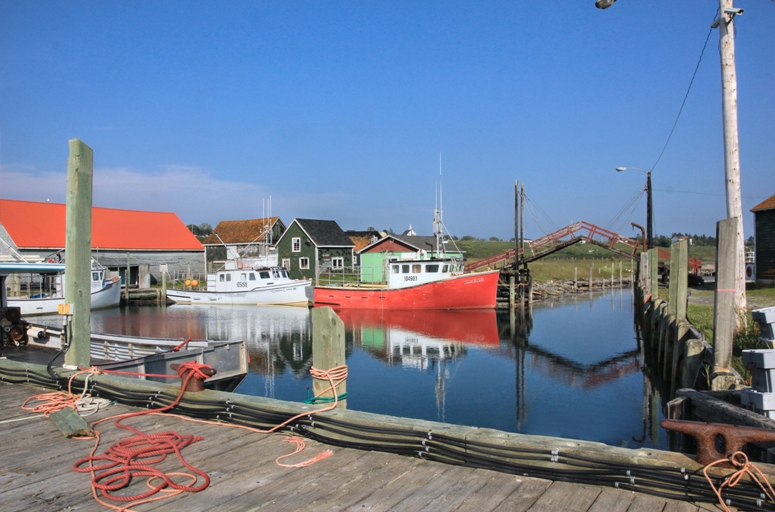 Plans went amok for day 11 so I went into high gear looking for a Plan B. Didn't have to go far. The Events section of the Vanguard listed a couple of things that sparked my interest, starting with a bean supper at the Pembroke Community Hall. Barrie nodded his approval and we set off.
Had the best beans & dogs & brown bread ever. Each portion could have fed three. We were so stuffed we decided to share one dessert (rhubarb crumble, which was actually better than the one I make.) We were especially touched to hear that the funds raised from the supper helps church members go to NY, who then volunteer to prepare meals for hundreds of people at the Bowery Mission in Manhattan.  These volunteers work several days working non-stop from 6 a.m. to 3 p.m. to feed the homeless. Imagine that.
Before heading back to Yarmouth for a Gospel concert at the Salvation Army Church (which I also read about in the paper), we drove close by to the Sandford wharf, where we found what is reported to be the smallest wooden drawbridge in the world. It allows fishermen and visitors to cross from one side of the wharf system to the other without having to take a much longer route around, and it also allows boats to pass through to where they can be moored.
We also found a gem of a little beach on the far side of the main wharf and I'll venture back some day for a stroll and a swim.
The concert turned out to be a sweet surprise. Not for the calibre of singing. Although there were a few performers who had gorgeous voices, some had voices like mine … not "concert" quality. Yet, in spite of sweltering heat, they opened their hearts, belted out their songs, and were braver in public than I would ever be. The evening was just lovely.
Now you may wonder why I don't have more photos. Truth be known, although I took photos at the bean supper (including a gorgeous painting of various places in the region done by Tootsie Emin), I, err, ahem, yet one more time was shooting away without a card in my small camera. You'd think I would have learned my lesson the last time. Apparently not. Lucky for me, I had used my larger camera to take the shots of the drawbridge but only discovered my "no-card-in-small-camera" when I went to download the day's photos.
Barrie says I need a keeper. Keeper of keys, my wallet, the cord to my laptop, tickets—to name a few, including a keeper for the card in my small camera.
And you may be wondering what happened to Day 10. Well, it's like this. I'm on the road but my notes for Day 10 are back home. Yes, a keeper for my notes now also required.