Joan d'Entremont and I are standing at the top of large cement walkway, which encompasses a huge cannon-like gun several feet below.  It's the most bizarre thing I've ever seen that's not in a museum. Even stranger is the fact that it's in the middle of nowhere, on McNutt's Island, a relatively small hunk of land (7 km x 3 km) off the coast of Southwest Nova Scotia.
Here we are, in the middle of a scrubby forest, looking at this thing. As we try and figure out how to get to the bottom, we spy a wooden ladder that's built into one side of the enclosure. "I'll follow you," Joan says with a pause  "… if you make it down."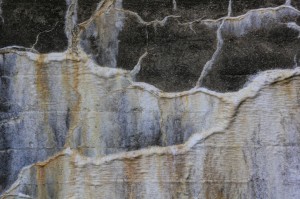 "Some friend," I sally back. "You're probably still ticked that I forgot the milk for your tea, the mayo for our sandwiches, and the bacon for breakfast."  She laughs.
Mercifully, each step is sound and we have no trouble getting to the bottom. Joan heads for large steel encased door-less rooms that were barracks for the soldiers, and storage rooms for ammunition. I head for the walls as they are full of weird patterns formed by the elements interacting with the cement blocks. Reminds me of abstract paintings—only better.
There's another bunker just like this one, about 150 feet away. An underground tunnel connects the two, although we choose to zigzag our way around the outside and get in from the back end.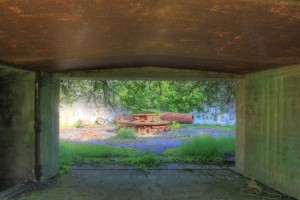 Together with the Sandy Point Battery on the mainland, the bunkers protected the region from the threat of submarines during WW11. These fortifications were important, as Shelburne was chosen as the alternate port should Halifax get into trouble as the naval centre. The range of the guns was about 10 miles and took 17 men to operate each gun. During the building phases of these batteries, there were 200 soldiers and 100 workmen on McNutt's Island.
The island was founded by Alexander McNutt in 1765 and was originally called New Jerusalem. Cats were not allowed on the island because they were not mentioned in the bible.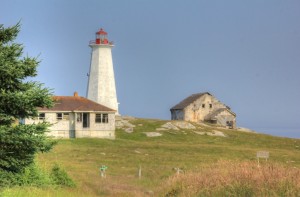 Fast forward a hundred years to the late 1800's. Although the community was small, there was a post office, school, even a hotel. Mind you the hotel consisted of two bunkhouses—one for ladies and one for gents. At some point, one of the residents successfully made and sold vinegar from sour yellow apples.  I'm not sure if he had an orchard or brought the apples in from the mainland.  And I suspect someone made a little hooch although I'm sure lips were sealed.
Sheep roamed around in the wild and were only corralled once a year and sheared for their wool. That practice has continued until today although no one actually lives on the island. A few people, like Lyndon Crowell, have cottages and they visit for summer outings or hunker down here to hunt. There are no ticks on the island but there are plenty of deer.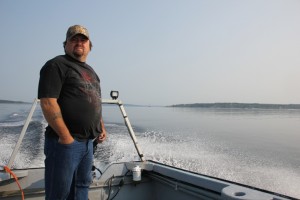 And it's thanks to Lyndon that we were there for a couple of days. Not only did he bring us out in his skiff, he also let us stay at his camp, and came back to fetch us the next day.
Lucky for us, the Cape Roseway Lighthouse and the bunkers were only a couple of kilometres away from the camp, so it was an easy hike to see the main sights which included a cemetery for derelict cars tucked into the woods with a sign which read:  Mr. Mink's Auto Repair. If we can't fix it, nobody can. See Mr. Mink.
By the way, there are several funny signs posted on the island, likely the work of the illusive Mr. Mink. 
The first lighthouse here was lit in 1788 and lasted until lightning struck in 1959 when it was destroyed by fire. It was rebuilt and manned by light keepers until 1986, when the light was automated.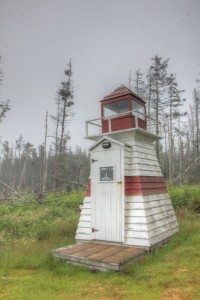 Lyndon's dad was a light keeper and Lyndon lived on McNutt's Island with his family for 15 years. Some years, Lyndon boarded on the mainland in Gunning Cove to go to school in Birchtown, but he preferred home schooling to living on the mainland. He has fond memories of playing basketball in the bunkers and can tell many a tale, including how the devil and his dog walked from Sandy Point and up the cliffs at McNutt's Island and the devil left his footprints in a stone seat called the "Devil's Chair."
Another "wow" lighthouse is mere feet from Lyndon's camp.  It's about 8 ft tall and houses the most impressive outhouse I've ever been privy too. No pun intended! Bonus: there's a good supply of magazines and a pair of reading glasses.
After we returned to Gunning Cove and said our adieus, Joan and I headed home. What would normally be an hour's drive took seven hours. For starters we headed to Cape Sable Island where we poked and prodded our way along the coast, looking for antique shops and beaches and taking every little side road. The journey back was like driving down memory lane for Joan as her mother was from "the Cape" and Joan had fond memories of visiting her grandmother in this region.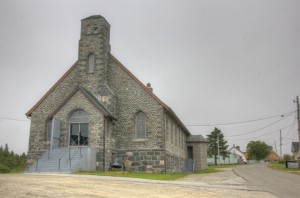 We found three beachers: Southside–impassible road with small Yaris; New Road, lovely but has a lot of beach rock and not much sand at high water. The best beach was "The Hawk." Bonus: if you are there at low tide, then you can see what's referred to as the Drowned Forest–a 1500 year-old petrified forest of tree stumps. Alas, it was high tide; good reason for us to go back.  Another gem is the stone church in Clark's Harbour. Sadly, it has a modern metal and glass front doors which is a crying shame.
But the The Archelaus Smith Museum in Centerville made up for it. It's a delightful mish mash of stuff. The staff seemed overjoyed to see us and oh-so-helpful. (I doubt that many people drop in.) The visit was topped off by Joan finding a school photo of twins in a random display of photos in a large carousel. Turns out it's her aunt and uncle, Bernice and Bernie Smith. Fun!
I especially liked the upstairs which features a painting done in 1940 by Manton Nickerson.
It spans the entire back wall and is called a "curtain painting" as it's done on strips of canvas. This is just one part of it and represents around four and a half strips.
But the yummiest part of the whole trip was simply having time with Joan. Although we are neighbours (she's only 3 km down the road) and see each other at dinner parties or aboard her husband's boat on treks to Seal Island with a crowd, we've never had solo time.
So this trip was like having a get-to-know-you private pyjama party with a giant rural treasure hunt tossed in for good measure. It was "damn-as-near-it" perfect. Next time: will pack the mayo, milk and bacon first.
ps. You can get to McNutt's Island with Ken and Sherri aboard "Brown Eyed Girl." They own Shelburne Harbour Boat Tours and offer a variety of trips including daily cruises to McNutt's Island.
pps. And, yes, we did find a couple of places that sell antiques … a new one in Shelburne on the main drag (name escapes me! ARGH!) And The Red Barn in Clyde River … also a new spot with a decent selection of collectibles (and decent prices.)
ppps. I seem to be getting behind in my posts. Sigh. Today will be catch up day. Sort of. After I check out some waterfalls in Clare.