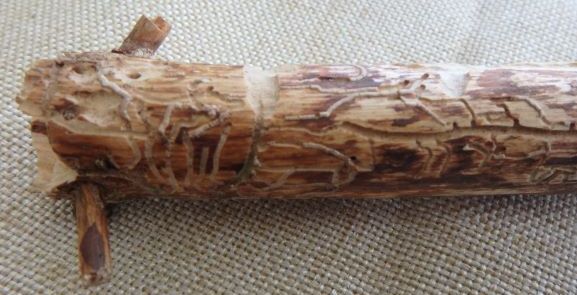 It will be six weeks tomorrow since I posted something. REALLY?
Yes, Sandra, really. In case you hadn't noticed, time is not waiting for you.
Oh, really. Well. Umm. Golly. Gee.
Best put fingers to keyboard and come up with something brilliant, eh? Maybe tomorrow.
Meanwhile, look at this exquisite piece of art above. It's about 8 in. long and 1 in. diameter. Have you any idea what created this? I do. Doug Strongman, retired prof and entomologist (bug expert) at St. Mary's University gave me the lowdown.
First, some background. Several months ago my eyes were drawn to this small naked branch on the forest floor. Picking it up to get a closer look, I could see a bazillion small engravings up, down and around the stick. Reminded me of primitive art.
Doug says that it's the work of pine bark beetles (Scolytidae), "Tiny cute beetles that eat the sugar-rich phloem and surface wood under the bark after the tree dies." They are also known as "engraver" beetles and the result of their work is referred to as a "gallery."
Now, I've become obsessed with finding these works of art on old logging roads and in the forests where we live.
And I'm clearly spending more time loafing about in the woods (or gazing at weird and wonderful pieces like this) than I am paying attention to my blog.
Maybe some words of wisdom will ooze out of my pores over the weekend. Or not.
Aha! Here's another one.
Really.