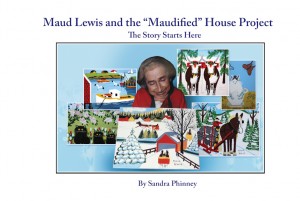 Shameless self promotion here folks so bear with me. A week from today I will be hosting a book signing, reception as part of the launch of my wee book, Maud Lewis and the Maudified House Project–The Story Starts Here. It's primarily a photo documentary of a special project initiated by the Friends of the AGNS here in Yarmouth, involving the installing of 11 children's playhouses throughout the town that were painted by local artists. They are getting lots of attention and will be auctioned off this fall as a major fund-raiser for children's programs and gallery events.
Aside from seeing 190 photos, readers will find some interesting information about world renown folk artists Maud Lewis, a few stories from people who knew her, and other odds and sods related to this amazing woman. The book also celebrates the importance of volunteers, and shows how a community can rally around a common goal and make things happen.  
As part of the launch, the Friends will be showing a half hour documentary about Maud Lewis filmed in 1965 and aired on CBC television titled "The Once Upon a Time World of Maud Lewis." Showtimes 6:30, 7 and 7:30 p.m.
Once I recover from the launch, you can expect to see several new postings of authors as I have a dozen lined up between now and Christmas!