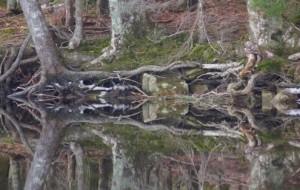 Funny how serendipity steps in when you least expect it. A few days ago I read Melanie Chamber's blog, Toronto bound. Melanie is a travel writer and colleague whom I admire. Her title intrigued me, as I know that Melanie lives in Toronto. So what on earth could she mean by headlining her blog Toronto bound?
Melanie opens by saying, "When I'm away, I become someone else. Instinct and spontaneity return. Without the stress of work, without the familiarity locking me into habits and patterns, I listen to my gut, which means, I also take risks. I become more, well, more me!"
I found myself nodding in agreement. By the time I finished reading her post, I felt as if my friend had pushed me off the deep end of a pool. I had a choice: reach for my comfy (and safe) water—wings—way of doing things, or tread water like a mad woman for a few moments then push myself to learn a new stroke or two that might take me  to an inner island; a grand adventure to some uncharted territory.
You'll see when you read her blog of March 15th, that she's made a commitment to spend this summer at home in Toronto. Instead of trotting around the globe, she intends to scoot around in her own backyard. And, she plans on approaching things differently. At the end of her blog Melanie tucks in a wee challenge:  "Move. Take a bite of something weird, talk to someone, reveal yourself, take a leap of faith, and grow."
Within seconds of reading her post, I impulsively fired off a comment which said, in part,  "Oh! Yes! Of course. Why not? Frikkin' brilliant m'dear. You've inspired me to do the same. Right here in lil' ole Yarmouth."
Before I could digest what, exactly, I had committed myself to, my inbox pinged with an  email from Melanie.  Subject header: yes, and yes and yes!!!! The note went on to ask, "Ok … what about we do it together, starting on one day and do it everyday for 30 days? But, as travel a writer are you at home for 30 continuous days this summer?"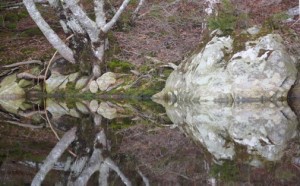 We swapped emails and agreed to Skype at noon on the 20th.
The thought of actually doing this left me feeling lightheaded. Giddy. Much like a kid about to explore a cave for the first time, or getting ready to board a plane for Timbuktu. I was excited! I was going to do something new, perhaps even risqué. I was also anxious.
You see, awhile ago I read Mary Oliver's book Our World.  At one point, Oliver talks about attention and what she learned by observing her partner, Mary Malone Cook (now deceased), whom she refers to as "M."
Oliver writes, "Attention without feeling, I began to learn, is only a report. An openness—and empathy—was necessary if the attention was to matter. Such openness and empathy M. had in abundance, and gave away freely … Then  M. instilled in me this deeper level of looking and working, of seeing through the heavenly visibles to the heavenly invisibles."
I was so struck by these words that I typed them out and taped them to the bookcase in my office at eye level. This kind of attention has been missing in my work of late. Sure, I write some decent stories, take decent photos. But I'm stuck in one dimension. My reportage has become slack. I'm not seeing in 3-D anymore. It's as if my eyes have hazed over and my senses have dulled. Lazy? Tired? Bored? I don't know. I yearn to see the "heavenly invisibles" but I'm not sure where to start or even how to go about doing this. Sounds trite, but I'm not sure I even know how to really pay attention anymore, and that's a bit unsettling.
Then, just yesterday, I read an article in the Star (written by Jim Coyle on March 15) about Jean Vanier being awarded the Templeton Prize. Vanier has been my hero forever. The write up mentions how 15 years ago, Vanier said, "We have universities, we have schools of technology. But where are the schools for love? Who will teach us to love? Who will help us to come out from the frontiers that we lock ourselves behind?"
Although I'm not exactly sure what the connection is between Oliver's comments on attention/being privy to heavenly invisibles … Vanier's plea for humanity to come out from the frontiers we lock ourselves behind … and Melanie's challenge to reveal ourselves, take a leap of faith, and grow … I do know there is a connection.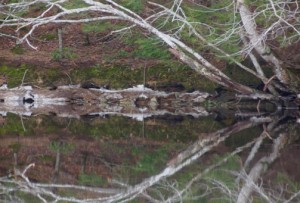 Meanwhile, here's the lowdown:  after we yakked yesterday, we've both committed to taking the month of July to explore our own back yards, in ways we've not done before. For me, that will include going anywhere in the Tri-Counties, which includes Shelburne, Yarmouth and Digby. We'll do field notes on a daily basis (journal/blog) for 31 days. Could be 50 words or 5000 a day. Matters not. What's important is that we are committed to doing this, and doing things differently. Can't define it more than that at the moment.
Right now, I have butterflies in my stomach. And I'm wearing a silly grin that's about as wide as my ears.
PS
I took these photos from my canoe on the Tusket River in front of our home around this time last year. The kaleidoscope mirror images had me mesmerized for a couple of hours. I look at these sometimes and wonder which way is up? Seems appropriate for this post. For sure on that day, I was privy to those "heavenly invisibles."