There are some things in Tortola that make me smile every time I drive by. For starters, you have to understand that there are very few sidewalks here. In fact, I can only think of two places where they exist: Road Town and in a small portion of the East End. Understandable, as Road Town is the capital and the centre of commerce on the island while the East End is the second largest community.
So it begs the question: whey on earth would there be a sidewalk on a stretch of road going to the West End, in the middle of nowhere (no village, no stores, no school, no church, no nuttin.' ) The only claim to fame that particular hunk of road can boast about is that it's about the only straight stretch on the island. Both road and sidewalk are peculiar. To top it off, there's a tree growing out of the middle of this sidewalk. The cement was clearly poured around this tree, with the intention of preserving it. Now that really strikes my funny bone.
That brings me to something else that makes me smile—the absence of billboards on the island and the absence of fast food and big box stores. Mind you, there is one "drive-thru" in Tortola. At Ms. Brewley's you can roll up and get fried chicken, fried fish and pates. And they have specials for school kids which includes a large juice.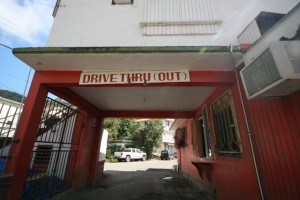 The entrance is very clearly market DRIVE THRU (IN) and the exit is clearly marked DRIVE THRU (OUT) so dummies like me don't get confused as there are entrances/exits to both ends from two side streets and it can be somewhat confusing. But not as confusing as the sign on the front of the building that says this is a bakery.
I had driven by many times with the intention of going in but traffic seemed a bit challenging to pull off, or I was in a hurry or forgot. Recently, however, the stars were lined up; I remembered, had lots of time and didn't have cars zooming around me on both sides.  So, thinking this was a bakery, in I go ready to buy a couple of loaves of bread but ended up with beef pates.  Scrambled my brain—but tasty just the same.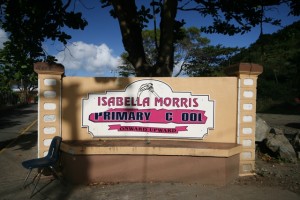 Finally in my smiles catalog are a couple of signs. The first one is outside the school on the other side of Carrot Bay. Primary cool, indeed. Love it. And the second one is a find my sister Carmen made when we had lunch at deLoose Mongoose in Trellis Bay. A sign inside the bar explains how the government wants to keep public places clean and how dogs are not allowed in eating establishments. Two feet from the sign, asleep on a bench in front of the bar, is a dog. Smile factor: 10 out of 10. Alas I can't find the photo. Will keep trying.
What's making you smile these days?