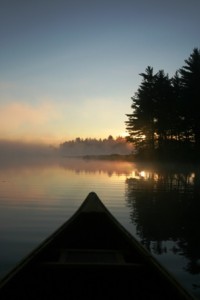 Well now. Time sure does fly when you're having fun. Or, when you are in such a spin you don't know which way is up. Or down.
Mercifully, I've come out on the other side … and seem to have most of my marbles intact.
Have also been canoeing of late. Great trip with dear friends into Birchdale and the Barrio system, one of my favourite places on earth. We've had days and days of rain here in Nova Scotia … weeks of the wet stuff actually, so I was ecstatic when the sun came out on Day 1 of our 4-day wilderness trip last weekend. It lasted for three solid days.
Mind you, we had an interesting thunder storm with rain showers on on return paddle, Day 4, so we pulled ashore on a wee beach, quickly set up a small tarp, hauled out our thermoses of tea and proceeded to tell yarns until the storm passed.
Now planning a wilderness women's trip into Great Barren Lake. But first, need to pay attention to a few deadlines. Reminds me of a quote by David Adams:  "I love deadlines. I love the whooshing sound they make as they go by."
Sigh.