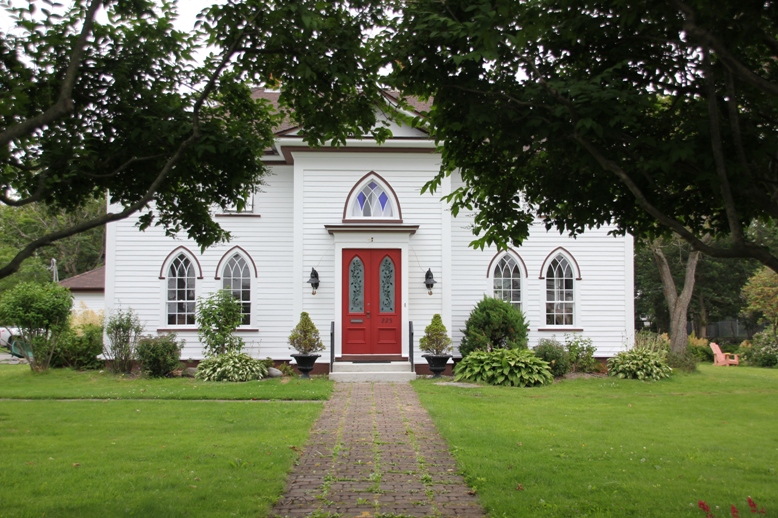 I love this town and her ravishing beauties—homes with old bones that have been lovingly kept or restored. For some reason or other I always want to break out in that chorus: "Dem bones, dem bones, dem dry bones…" when I'm close to one of these lovelies.
It's after lunch and I'm now on tour with Susie Sweeney.
Susie is an author and has penned many historic panels and brochures including one titled "Walking Tour/Yarmouth" which she wrote about 30 years ago and features 26 properties in the downtown core. You can pick up a copy at the Yarmouth County Museum. (Note: a couple of the homes on the tour have burned or were demolished, and, some newly restored homes that should be there are not. However, it's a great place to start. With any luck someone will revise, publish, and promote this self-guided tour.)
I'm especially fascinated by what's known as Widow's Walks. Usually perched on top of large captain's homes and accessible by a trap door from an upper level hallway or room, widows walks are usually a fully enclosed room—also called a cupola—which includes windows and a walk-about or seating area. (This is an old photo but a clear shot of a widow's walk.)
In the days of sail, Yarmouth owned more ship tonnage per capita than any other port on the planet.  As ships set sail between home and foreign ports for extended periods of time, captains and sailors could be away from three months to three years, making their wives temporary widows.
Susie says, "My version is that the wife could go up into the widow's walk and check to see if her husband was coming into the harbour—in time to get the new man out!"
I've heard other versions … everything from someone checking on the comings and goings of the ships as there was no other way to know, to getting quick access to the roof in case of chimney fires. I've also heard it said that they were built by retired captains so they could wile away their time smoking foul-smelling pipes away from their wives, and pretend they were back on their ship's bridges and poop decks. I like Susie's version the best.
Whatever the raison d'être, widow's walks were the rage in the mid to late 1880's. People of affluence—captains and wealthy merchants—built large Georgian, Second Empire, Vernacular, Gothic, and Italianate style homes. 'Keeping up with the Jones' ran rampant.
Susie calls these stately homes 'Yarmouth eclectic,' adding: "You had sea captains who went to sea and brought back exotic South American materials. They would describe something they had seen three-quarters of a world away to an itinerant carpenter who couldn't read and had never been out of Yarmouth. The results were very interesting."
Some of the buildings in town may not be that stunning in appearance, but oh, the stories! The Salvation Army Citadel is one such place. J.M. Lawson in his Yarmouth Remembrances says "The Salvation Army opened fire on 'Sin, Pride, and the Devil' in Yarmouth on Sunday, August 30, 1886 in the Bijou Skating Rink, which was subsequently purchased by them and converted to their present Barracks." Gotta love that.
Here are just a handful of the places we scooted around Yarmouth for a look-see.
The top photo introducing this post is known as Murray Manor. This is a side view showing windows low to the floor on the second story, called "kneeling, praying or belly windows."
Yarmouth used to have two homes like this Gothic Revival, built side by side in the 1870s on William Street. One burned several years ago, but at one time it was the residence of Mr. Alfred Fuller, found of the Fuller Brush Co. Mercifully, it's sister, still stands. Isn't she gorgeous?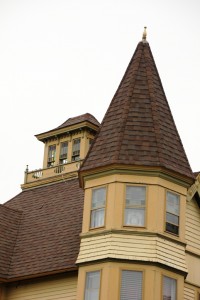 And here's Susie's favourite widow's walk in the town. It's on High Street, and easy to miss if you aren't looking up. I have to agree that it's also #1 in my books. Don't even know why. Perhaps it's the colourful panes of glass surrounding the windows. Or maybe it just has an air of mystery that seeps through its pores. Close by on Cliff Street is the Bishop's Residence and I'm annoyed that I didn't take a photo. The carving of an owl and the stained glass windows with bulrushes on the north side is well worth seeing.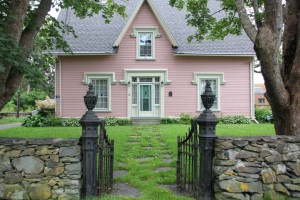 This is a lovely home on Forest Street. Notice the gate posts (to tie horses) and how the house is not quite centered. Most peculiar and I can't help but wonder why.
Parade Street has a couple of humdingers side by side. Closest to Main Street is a Georgian adaptation with a glass tower; next to it is an Italianate port-holed house built in the 1860s by a sea-captain for his daughter. It features what appears to be petrified rope around its doors and windows. It also has portholes for windows.
But the best thing about getting out of your car to gawk, is meeting people. Driving down Collins Street I catch sight of a home I've loved that has been sitting there for eons, dressed in drab colours. But it's transformed! I see lime green, charcoal, and touches of a deep rose along with some simple yet stunning garden displays. Come to find out, Les Smith and Michael Cook bought the home. There's a fascinating back-story and lots of quirky coincidences. (I'm saving the tidbits in hopes of selling a story.) In the process of having a chat, Michael tells me about the 19 ft-tree he decorates every Christmas. Would I like to be invited to see during the holidays? You bet!
Michael dashes into the house and returns with his laptop. "I'd invite you in, but things aren't as tidy as I'd like," he says, while booting up. "But here are some photos." I don't often use the word gob-smacked, but I can't think of anything better at the moment. Each room has been transformed into a picture-perfect arrangements. Imagination (and good taste) personified. I'm drooling.
He says, "I'll invite to our Christmas party." We swap cards  and I reply, "I'll be there."
*         *         *
Later that afternoon, I head to the Holy Trinity Church Tea, held in the hall. I love this church. She puts me in mind of an old cathedral, only on a smaller scale. I'm met by Vicki O'Neil, and Rosemary also joins us.
As is the custom at these things, we're plied with sandwiches and sweets. Charles Webster Brings the tea pot to our table. Before pouring he says, "Do you know that if you put your milk in first, you won't stain your cup–or your teeth?" I smile, saying I drink mine black and hope that both the cup and my teeth are spared the stain.
When Georgina Bent returns with the sweets, I point to the lemony squares yet one more time, telling her they are my favourite of the day. As it turns out, she's the one who made them.
"Oh. Would you mind sending me the recipe?"
"I'd be happy to do that Sandra."
SALTINE LEMON SQUARES
Crumb Mixture
1 sleeve of saltine crackers
3/4 cup flour
1/2 cup white sugar
3/4 cup cocoanut
1 tsp. Baking powder
3/4 cup butter
2 Tbs. Milk
Filling
juice and rind of 1 lemon
1 cup white sugar
1 large Tbs. Flour
1 egg
1 cup boiling water
(Cook, stirring constanty, until quite thick)
Combine first mixture and rub butter through until it is very fine. Moisten with milk. Place half of mixture in bottom of 9 x 11 inch pan, pour the filling over and sprinkle remaining mixture on top. Bake 30 minutes at 325 F. Cool on rack.
Georgina adds, "I find it better to put it in fridge after before cutting. Easier to cut without a mess. Enjoy!"