After getting hooked on cemeteries (Day 13) I'm now prone to being on the lookout for them. Living in a rural area, I don't have to look far. Every village has at least one cemetery if not more. And, if you are lucky enough to meet Deborah Trask, you'll learn a whole lot about gravestones.
For starters, Deborah is one of Canada's top authorities on the subject. She loves artefacts (and their preservation) and is the author of Life how short Eternity how long: Gravestone Carving and Carvers in Nova Scotia. Deborah has a lifetime of research filed away in her head with stories that match.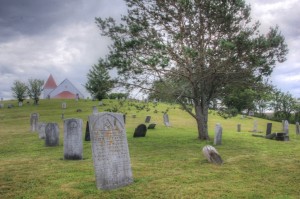 We started our tour on the hill behind what was the Hebron Baptist Church—currently a Masonic Hall. The funny thing is that I've passed by this cemetery a gazillion times while visiting friends who used to live on the lane that goes right and behind that cemetery … and never once noticed it.
It's mid morning. That's intentional as Deborah was hoping to catch the morning light to best see the headstones. A light sprinkling of rain passed on by then the sun came out just in time, for she had brought along a full length mirror. Must admit, looks funny to see someone in a cemetery walking around with 5-ft. mirror, but let me explain.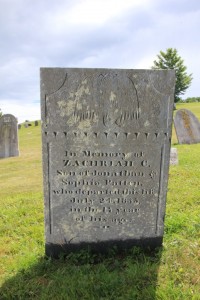 If you place a large mirror on an angle a few feet away facing a gravestone and catch some sunlight, the whole thing will become "illuminated." It's downright fascinating.  Photo above on the left is what the eye could normally see; photo on the right was taken while Deborah held the mirror up in front just a few feet away.
And here's another set taken at Town Point Cemetery later that morning. On the left, Deborah has mirror turned over. To the right, she's angling it to catch the sun which sheds a lot more light on the matter. As you can see, a mirror can provide dramatic results.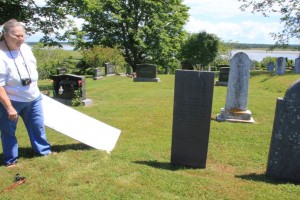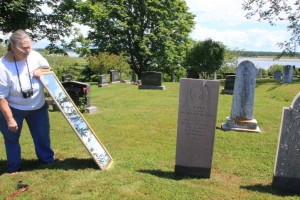 Many headstones in Nova Scotia have carved symbols—from angels to cherubim faces (both happy,  sober, and sad), trumpeting figures, hands, flowers, rope, willow and urn motifs …  ad infinitum. They are carved on sandstone, white stone, Vermont marble, slate, and granite. Some gravestones are surrounded by several short granite pillars that would have had a large chain surrounding a family plot or a prominent figure.
One headstone from 1849 that made me grin was signed J.T.A. (local stone carver, Joseph Tupper Archer).  Note the mistakes … the A inserted Benjamin and the correction in Churchill. That would have been one major "oops."
As we roam around, she points out to some damaged stones. Most are nicks and gauges caused by lawn mowers or whipper snippers. Also Deborah says that a huge amount of damage is done when well-intentioned people try to scrape moss and lichen off of old gravestones. "This causes irreparable damage and can reduce the life of a gravestone by decades" she says.
Eventually we mosey on to Town Point Cemetery in Chebogue—high on Deborah's list of favourites. History oozes out of the ground here and the site is stunning. (Another great place for a picnic.)
It's also the place where her father, F. Stuart Trask, is buried. His headstone is a handsomely cut gray Virginia slate and simply says, "a leader always." I think this is also an apt description of Deborah.  She's involved in many volunteer things, such as the establishment and on-going success of the Lunenburg Folk Festival for one. She also started the 1998 Cemeteries Protection Act. This is a big deal, as it outlines several "cannot" do's in relation to burial grounds and helps us preserve our past.
I comment about being pleased to see that there are no plastic flowers at her father's grave—adding that it's one of my pet peeves, seeing graveyards cluttered with this fake stuff. I expected her to commiserate but, to my surprise, Deborah has a different point of view. "Some people leave plastic flowers; others leave solar lights, plastic figurines, a deck of cards … these are signs of mourning. And it's a sign of life. A cemetery is intended to be used by the living." I've chewed on that notion for awhile and can see her point. Working on letting go of my snobbishness.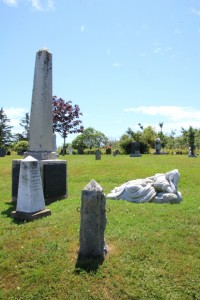 Meanwhile, I've always heard about "the marble lady" here at Town Point Cemetery. There have been many stories told about this lady, and rather than paraphrase what Deborah told me, I'm lifting a hunk straight from her book.
So if you are looking for the definitive version, this is it.
The Margaret McNaught Webster monument is curious because separate from the gravestone is a life-sized marble statue. This depicts the prone Margaret McNaught supposedly as Frederick A. Webster first saw her in a Scottish field, dozing on a sheath of wheat, sickle in hand. They were married in Halifax in the spring of 1834. The statue (particularly the feet) has been chipped away by perverse souvenir hunters. The separate monument which gives Mrs. Webster's vital statistics is a granite obelisk with purple slate panels.
So there you have it.
As we were leaving, Deborah draws on a quote from the late Jane Irwin, "A place without a cemetery is a place without a memory." I've been thinking a lot about this and digesting what it means.
I'm also grateful for all the volunteers who are involved in preserving our graveyards.
In some instances, like the cemetery in Hebron, it was totally run over with alders until some caring souls got together and decided to uncover and recover what they could.
Imagine that.