Laura Best lives in East Dalhousie, Nova Scotia. Her first YA novel, "Bitter, Sweet" was short listed for The Geoffrey Bilson Award for Historical Fiction for Young People. The author of over forty short stories, her work has been published in literary magazines and anthologies across Canada.  Flying With a Broken Wing, is her second YA novel and was published last September.
The story's main character, Cammie Deveau, begings life with a few strikes against her. She's visually impaired, abandoned by her mother at birth, and her father was a casualty of the Second World War. If all that isn't enough, she's being raised by her bootlegging aunt.
When Cammie learns about a school for blind and visually impaired children she becomes convinced a new life is waiting for her in Halifax, but how will she ever convince her aunt to let her go? With the help of her best friend, they devise a plan to blow up the local moonshiner's still. But Cammie has not managed to change her luck, and things get worse than she ever imagined.
How did Flying With a Broken Wing come into being?
For a very long time I wanted to write a story with a visually impaired protagonist. My mother is visually impaired, and so I was inspired to create a character that had visual problems as well. My mother taught me very early on that we work with what life gives us and make the best of the circumstances we have. If we want things to change in our lives we find a way to do it and that's exactly what Cammie Deveau sets out to do in Flying With a Broken Wing.
So the book began with the idea of a strong, visually impaired character who dreams of having a brand new life. When I started writing this book, I had no idea why this young girl was so determined to change her life. I knew there would have to be special circumstances that would warrant this deep desire other than her eyesight. Luckily, Cammie was quite forthcoming with all that information. Cammie loves to tell a good story! Once I started writing, she filled in all the blank spaces. She was such a joy to write.
Tell me about the writing process. 
For me, the writing process usually begins with a vague idea of where the story will begin and where it will end. I then allow my characters the freedom to develop as I write, and the story slowly unfolds as I go. I tend to do very little planning ahead of time. Occasionally I have a certain scenes or situations in mind that I want to take place within the story, but I never know exactly how it will turn out until I'm actually writing it.
What is the biggest challenge of writing novels for young adult readers? 
Perhaps the biggest challenge in writing for this audience is taking that step back in time to when I was a child, remembering the things that were important to me, and how I viewed the world. I want the stories I write to be believable and real for anyone who reads them. Since I like to write in first person I often describe my writing as playing "make-believe." I become the characters I write about. I feel their hopes and fears, their determination. They often have conversations with each other in my head as I work through the dialogue.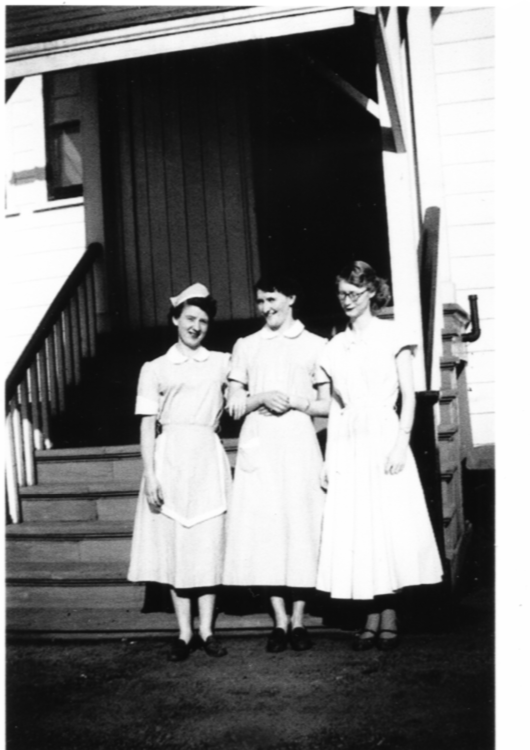 Insights or tips for aspiring writers?
If I had any tips it would probably be to find a story you want to tell and make it your own. Write about what's important to you. Don't just write to be published, but write to fill that deep desire to express yourself through the written word. Don't give up. You might not get the story right the first time, but if it's a story worth writing it should be a story worth rewriting—again and again if necessary.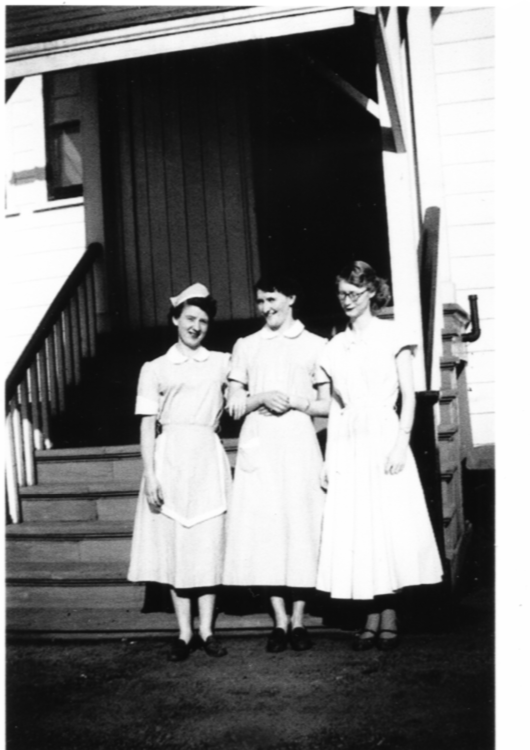 PS  the third photo is of Laura's mother (on the right) and two of her friends taken back in 1955 when she worked in the kitchen at the DawsonMemorialHospital in Bridgewater. She was about eighteen at the time. Laura finds the photo inspiring as it represents her mother's determination to meet life head on, knowing that the limitations we face in life are the ones we set for ourselves.
Laura welcomes questions about her novels and the writing life, so feel free to post questions!