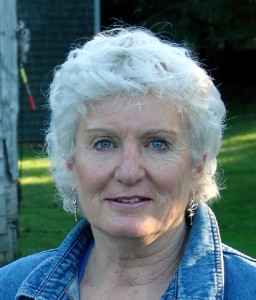 Johanna Bertin is a licensed medical social worker in Fredericton, NB who would love to spend more time writing but isn't ready to give up her love affair with her day job. She's working on a way to incorporate the love of one into the other, but in the meantime has written five books. Her latest is Don Messer: The Man behind the Music (Goose Lane Editions) where she shares anecdotes, rare photographs, and the recollections of family, co workers and fans revealing the inner complexities of the man who warmed the hearts of millions of viewers of Don Messer's Jubilee.
Check out Johanna's site, "Meanderings," here at www.johannabertin.com
What inspired you to write a biography about Don Messer?
I was intrigued by this man who grew up the youngest child of eleven on a marginal farm in Tweedside, NB and made it to the top of radio and television stardom in Canada—having the top rated show several years in a row and a viewing audience of 2.5 million in the 1960's. There were many talented fiddlers in the Maritimes at that time (the early 1900's) and I wanted to understand what it was about Don Messer that made him stand out above the rest. He obviously had talent, but there had to be a great deal more to his story. His biography was in essence the search for the man behind the music—the search to understand the musician whom other writers had declared unfathomable. The 100th anniversary of his birth gave me a time goal to work towards, as well as a good marketing opportunity for the book.
What's involved in pitching a book idea to a publisher like Goose Lane. How should people approach this process?
A writer friend told me that Goose Lane did not publish popular literature, but they published literary works that they hoped would become popular. I felt that the Don Messer story was worthy and that I had the skills to ferret out the personal story behind the man so many loved.
I wrote an outline of the book, and submitted it together with a draft chapter that demonstrated not only the depth of my research into the subject, but also the very personal approach that I was going to take in telling the story. I also submitted an extensive list of the people whom I intended to interview for the book and demonstrated that I had the co-operation of Don's family.
Goose Lane was highly professional. The day I submitted my manuscript I was given a time line starting that day and continuing week by week to the day of publication. Neither they nor I missed a single deadline.
For others wanting to pitch a non fiction book, be prepared to explain why you think your topic is worthy of 80,000 words. Is your approach original? What unique skills do you have that will make this book a success? Can you demonstrate that you will provide reliable research?
What kind of things can help "sell" your book idea?
I had an innovative approach and material that no one else had had access to and I was passionate about the need for Don's story to be told. I really believe that Don Messer is as important to Canadian music as Helen Creighton is to Canadian folklore and I was determined to show that.
I have excellent interviewing skills because of my profession and I am easy to work with – always meeting deadlines and open to feedback, both positive and critical. I am also very comfortable with media interviews, so they knew I would be able to promote the book.
It's important to be polite. You may have a great book idea but you need to court the publisher if you want them to invest time and money in your project. Do the research; be good to work with, appreciate your editors; don't harass; and always meet deadlines. Deliver what you promise.
Timing is important. The anniversary certainly helped draw attention to the book. I might have had a different response if I had proposed the book at a different time, so be conscious of external influences that will affect a publisher's interest in the book.
Tell us about pulling this book together. What was the toughest thing you had to do?
I spent months doing research at the archives, both paper and audio/visual, and I didn't stop doing research and fact checking until the book had gone to print. All told, I spoke with more than 100 people and transcribed about forty of those interviews. Every reference was double and triple checked for accuracy. I spent a month getting proper consents for the photographs I used.
I was very fortunate in that I had access to video archives and written transcripts of interviews Don had done. Because of this I was able to quote Don, something that really made a difference in my understanding of Don and something that made the sections of the book in which we see the world through Don's eyes, believable.
The hardest thing was divulging highly private information: that went against all my professional ethics as a social worker. There were tragic and painful situations in Don's life, and to ignore them would have been untrue to the man. He was an intensely private individual and he would not have been happy with some of the story I disclosed but I was judicious with my use of personal information and I did have the blessing of the family to tell the story as I found it.
Advice for writers who want to write biographies?
The complexity of the material I collected re-enforced for me time and time again the importance of recording every interview. No matter your memory, you cannot possibly hope to remember quotes word for word, and that is essential for an accurate rendition, especially when you are writing about a time past.
Never dismiss a source. They may not have good information, but they may point you in the direction of an invaluable source.
Work on your photo permissions from day one. It took me up to a month to locate some copyright holders.
Don't underestimate the work involved. Be cognisant of the huge responsibility you have taken on in being presumptuous enough to write a book about someone else. Include nothing that you can not substantiate, do not make assumptions, and don't pretend to think that you understand motives unless you have a great deal of material to back up your suppositions.
Last words?
Enjoy the adventure. I loved researching and writing that book.
What great insights Johanna. Let's open the floor to questions and comments.