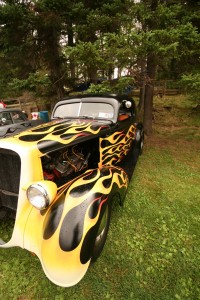 Thought I'd post a note here about my next two freelance workshops.
Saturday October 1, in Halifax, NS
Saturday November 5, in Saint John, NB
These are full day workshops. The one in Halifax will focus on freelance opportunities for various venues (corporate world, business writing, writing for magazines and trade journals etc.) The Saint John workshop will focus on travel writing. For complete workshop outlines, fees, locations etc., please send me a note via the comment box here or email me at s.phinney@ns.sympatico.ca
As photography is vitally important to a freelancer, part of each workshop will focus on selling photos to editors and clients. It's all about composition (and relatively easy to learn with practice, even with a point-and-shoot camera). The shot included here was taken at the National Car Show in Moncton, NB and was a full page photo featured in Saltscapes Food & Travel as part of story titled "Rev up your engines" in this year's edition.