What a treat to get a note from Marcy Wallace with photographs of the white convertible (Nell and Bob's Lincoln Continental) that I mentioned in my last post. Marcy was here with Mark in 1990 and took some photos down at Smugglers. As you can see, at that time, there not only was a deck, table and chairs but also a staircase and some sort of upper level (perhaps a left-over façade from the set.) For sure the convertible had the best seat in the house!
When we visited in '99, there was no deck, staircase, or upper level and the place was pretty ramshackle then although the car was still parked in the same spot. Now, as I mentioned, the building is simply a sorry sight. But the memories are as strong (and wonderful) as ever.
Another thing has changed; there is a flag system at most beaches. Red means DANGER! Do not swim. Of course, this is totally ignored by local surfers. The bigger the waves, the better. But for most folk, paying attention to the flag system makes sense as red flags mean huge waves that can knock you senseless and/or undertows that can wrestle you out to sea.
Yellow flag means CAUTION. You can swim but use common sense. For most of the past 30 days there's been a red flag up at Long Bay. We walk by there every morning and it's really an "ooh-aah" sight to see the big waves turning into tunnels and racing for shore.
Sometimes an incoming wave meets one that's receding from shore and when they collide, it sounds like the crack of a rifle. Deafening. Then the incoming wave barrels through and hisses into shore as millions of miniature bubbles race for high ground.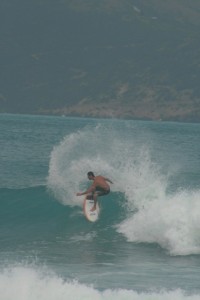 When the water recedes, it sounds like a barrel of broken glass being shaken by an invisible giant. The combination of sights and sounds is quite dramatic. I imagine a mad conductor directing an orchestra under the palm trees as it plays a wacky concerto.
The third shot is taken of surfers in Apple Bay next to Bomba's Shack. Bomba—and this full moon parties—are living legends. Now that's a story for another time.