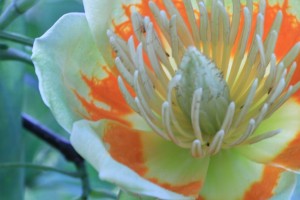 No, Sandra's not "gone psycho" (although a couple family members may beg to differ.) Psychogeography is a new term for me. I've read many definitions –some coherent; some not–but the one I like the best is by Merlin Coverly, a chap who wrote a book on the topic.
He says, "Psychogeography seeks to overcome the processes of 'banalization' by which the everyday experiences of our surroundings becomes one of drab monotony." He adds that if we look at a city as a site of mystery, and wander/walk in an area with our blinders off, we'll discover " … the true nature that lies beneath the flux of the everyday."
I've taken the liberty of substituting references he makes to urban and city with words like rural and village. Works for me. And it also fits in with my quest to go beyond seeing the "heavenly visibles" and discovering the "heavenly invisibles."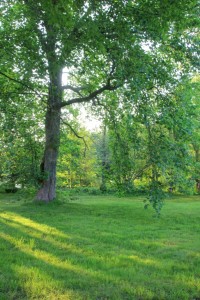 And that brings me to this exquisite flower. I found it on a 100 ft. tall  tulip tree (Liriodendron)  within the 10K radius. It's sometimes referred to as a "tulip poplar" and apparently is also called canoewood, saddle-leaf tree, and white wood. Truth be known, it's more closely associated with magnolias.
I learned about this tree from Vicki O'Neil. She knew I was doing The July Project and would be on the prowl for the month of July. So she told me about this towering tree that blossomed out in green and orange flowers that looked like tulips during the month of July. It had been planted decades ago by a Mr. Gardner for his wife at the "Gardner Cottage" on the Haley Drive in Deerfield. Not only that, several years ago a huge limb broke off in a hurricane. Vicki had three bowls made; gave two away; still has one. Although the photo doesn't capture the essence of the bowl very well, the natural grains in the wood are a warm, buttery colour with a hint of pink.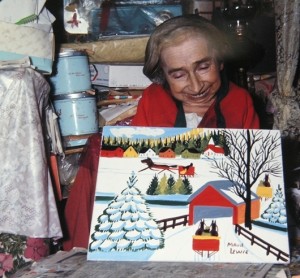 I've known Vicki for a few years and have always been awed  by the amount of information stored in her head (and also stored in albums and notebooks.) It was Vicki who shared with me the story about Maud Lewis (famous Nova Scotia folk artist, 1903-1970) who was born in Yarmouth and lived here for the first half of her life. What is not well known is that Maud gave birth to a girl. Sadly, Maud was told the baby was a boy and he died at birth. The reality was that her daughter (Catherine Maud Dowley) was raised by Alvin and Mary Crosby in Pleasant Valley (who lived next door to where Vicki and her brother Jack live today.)
Vicki's father was also raised by the Crosby's … hence a lot of information (and photos) were passed down to Vicki.  I visited the Pleasant Lake Cemetery–where Catherine's first child, LeRoy is buried–and felt an overwhelming sense of sadness to know that Maud never got to know her daughter or grandchildren. They've not been part of Maud's amazing story, nor have they benefited from her fame.
Back to TJP.
On my way back home, I caught the word "airport" on a sign as I was whizzing through Deerfield, so I turned around and onto a dirt road that led me to a relatively flat 1500 ft. grass strip  on a hilltop overlooking the area. It's the site of the Finlay Airport, named for Robert Finlay, a resident of the area who loved flying and donated the land. A small plane was parked next to one of three hangars, and there's also a clubhouse. I later learned that this is largely the work of volunteers who maintain the airstrip, buildings etc. Imagine that. Volunteers are the foundation of rural communities and do some extraordinary work.
Remember the photo of the log library in an earlier post? Well, I ended up there as well. It's the Durkee Memorial Library in Carleton, built in 1938. I've driven by here hundreds of times and only went in once–some 30 years ago–when I borrowed two books and (blush blush) never returned them. One was moldy and I burned it, but the other, The Electric City, has been thumbed through a lot.
I called on one of the library committee members, Lucille White, and she agreed to open up for me. Well now … first of all I had no idea that the library was open three days a week. (Tues. and  Sat., 1-4 p.m.;  Thurs., 7-9 p.m.). But the biggest surprise was to discover a museum in the back of the library. Added on years ago by volunteers, it houses everything from the old Post Office boxes to a weaving shuttle that has a burn mark on one end caused by a tallow candle in a home in Chebogue, back in 1812.
There's also the original map of Yarmouth County (1863) that was discovered in on old barn. It has tons of interesting information about families, who the truckers, farmers, fish merchants ad infinitum were.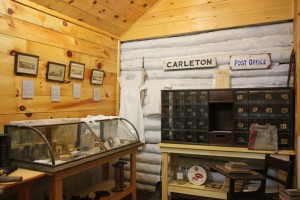 Back in the early 1900s, Carleton was home to a prosperous outfit usually referred to as the "clothespin factory." It was Miller & Gorgon Manufacturing, and they  not only made clothespins, they also made blueberry boxes, dowels, three different kinds of washboards, and paint brush handles.  There's a lovely collection of memorabilia from these times in the village. And so it goes.
It's time for me to move on today but there's more to the Day 6/7 story related to my 10K jaunt. Will post again tonight. Oh yes. I fessed up to Lucille about not returning the books I borrowed over 30 years ago. She laughed, saying, "Happens all the time." I offered to buy an new copy of The Electric City, but some kind soul had donated one a couple of years ago. At .25 cents late fee per day, I reckon I owe the library about $2,7375.00
I made a modest donation. And signed up to volunteer. Small atonement for my sins.
ps. photo of the opening of the library from Durkee Memorial Library; photo of  Maud Lewis courtesy of Jim Corning.