Couldn't be a better way to bring closure to The July Project: grab a friend (Belle Hatfield), head up to Clare for dinner, then attend the BLUE MOON Drumming event at Colette Valotaire Thibodeau's home on the Maxwellton Road in Meteghan River. Who knew that what seemed to be simple evening would turn out to be a comedy of errors … with the most perfect ending.
But first, a little background.
Many moons ago, Belle and I took a drum-making workshop in Salmon River from a shaman by the name of Melbourne. Acadian by birth, he had studied the ways of the Mi'kmaq and Cree and was extremely knowing and wise.
He started off the session by doing a sweetgrass ceremony in the woods behind his home. Afterwards we proceeded to his shop where, lying on the table were beaver pelts, each with a cedar hoop and a deer hide cut in the form of a circle.
First we marked places where we would drill holes on the cedar rim. Next we sanded it inside and outside, drilled small holes for rawhide laces would go, and punched out holes on the deerskin to match the markings on the rim. While soaking the deer hide before stretching it on top, we rubbed linseed oil into the wood. The resulting texture and colour gave each drum its own personality.
Eventually we placed a piece of thick rawhide in the centre of the back and strung a wheel formation in preparation for stretching the deerskin over the front. The tricky part was to keep the deer hide centered over the front while stretching it taut. Six hours after we arrived, our drums were complete. Melbourne held another sweetgrass ceremony to bless the drums and we came home bearing drums.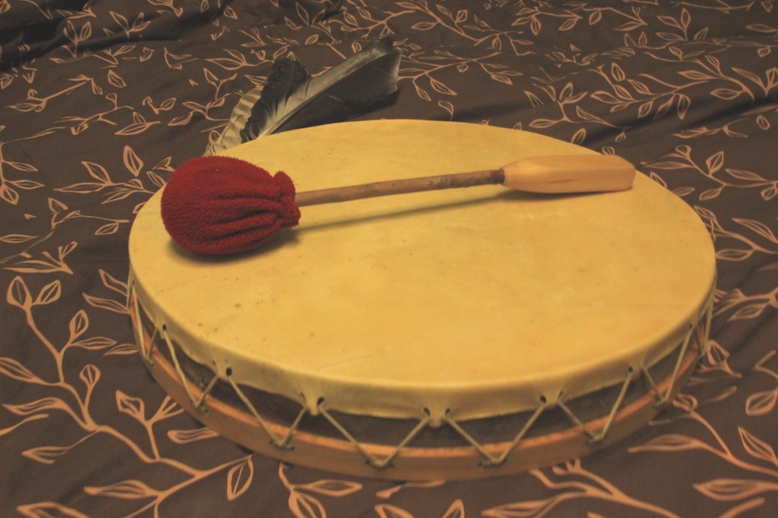 Alas, I've not used it as often as I intended but as soon as I saw a BLUE MOON Drumming event posted on Facebook, I signed up and contacted Belle.
First on the agenda was having dinner at Kizuna Sushi in Little Brook. It's a wee tiny place but oh the food! Alas, they were closed for a few days. We ended up at Bamboo Garden in Meteghan, a well-known Chinese restaurant that's been there for ages. They've done a complete reno and it's wonderful.
Fairly close by was the d'Entremont Road which I knew would take us to Maxwellton. I checked my daybook. Yup. I had noted Colette's address: 272 Maxwellton Rd. Dinner finished, we headed off around 7:20 p.m. We had lots of time. Although the event listing said "Drumming will start promptly at 8 p.m." I guessed it would take us only 10 minutes to find Collete's place. We drove up the d'Entremont Road in search of # 272. Twenty minutes later, we ended up on a dead end at the edge of a lake. We turned back and took another road and drove some more. The numbers didn't jive. We were in Maxwelton all  right but the numbers were in the 3000's. We kept going. Then we saw sign for Hectanooga.
Now … what you have to know about Hectanooga is that it is a long way from … anywhere. By now, it's well after 8 p.m. Rather than keep going on what seems to be a fool's errand, I suggest to Belle that we turn back and have a visit with Rene  Bellliveau  (remember the guy who took me to a waterfall? Addendum post, July 17). So back towards Meteghan we go, turn down René's lane, only he's not home. We leave a note on his doorstep along with the pound cake that was intended for the drumming event.
By now it's inching up to 9 p.m. We shake our heads and laugh. Back into the car for a quick detour into Smugglers Cove Provincial Park so we can get a glimpse of the sunset.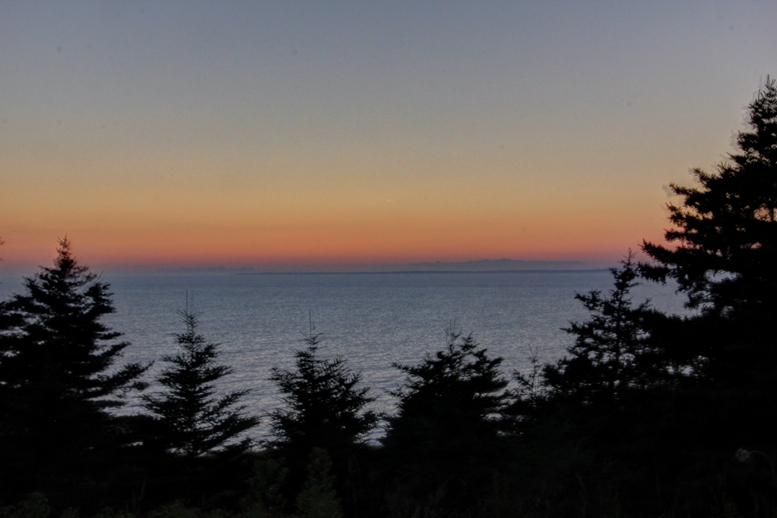 We hike to the shore behind the treeline just as the sun drops out of sight behind the horizon on the bay. A thought flashes by and I blurt out, "Let's go to Mavillette Beach and play our drums!"  Belle replies, "Sounds good to me."
And that, dear readers, is how I brought The July Project to a close:  sitting on a large rock with a friend at the edge of Mavilette Beach, playing our drums as the moon rose over St. Mary's Bay.
It was exquisite.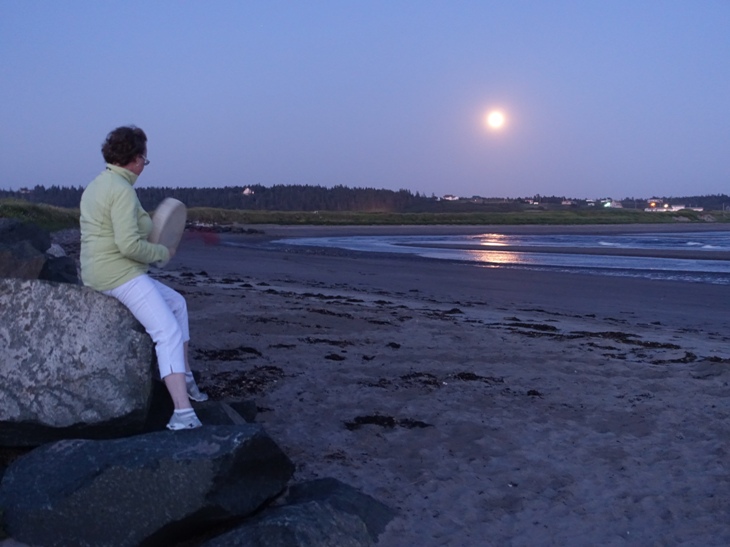 PS We later learned that there is a BIG difference between Maxwellton and Maxwellton Road. And, by the way, the Maxwellton Road (which we should have taken) is right next to the d'Entremont Road (which we should not have taken, even though it led to Maxwellton.) Clear as mud, eh? But had we taken the right road, we would have been there in 10 minutes.
PPS I received a note from René the next day which read:
When writers show up one never knows what might happen. Sorry I 
missed the excitement that might have been. Hopefully you will 
pass this way again. I am ok with "let them eat cake"... thanks.