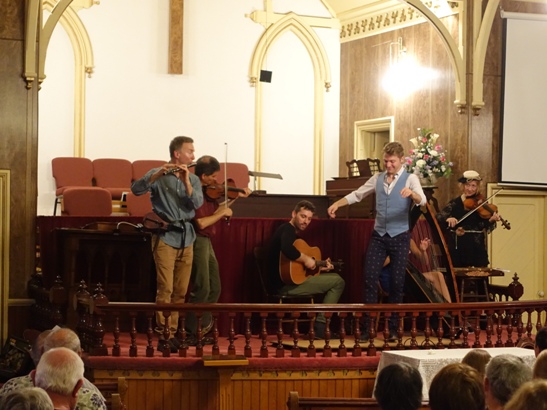 It's a balmy Thursday night; we're sitting in the Bay View Baptist Church in Port Maitland. The church, built in 1893, has simple yet understated Gothic features. I love how the seats are rounded in a semi-circular fashion. Feels "homey" rather that "churchy." It looks like a full house has gathered to hear Boxwood.
I attended a Boxwood performance in another location about 10 years ago and never forgot it. The promo for this year's concert said in part, "Programs combine originality, intelligence, fun, and sheer mastery that have garnered respect from audiences, presenters, and colleagues alike in North America, Europe and Asia."
Yup. And they delivere in spades.
Within seconds of the opening number, I want to get up and dance.
The musicians tonight include Chris Norman with his flute and small pipes; David Greenberg doing baroque and Cape Breton violin; Adrianne Greenbaum with her Klezmer flute, viola and accordion; Maeve Gilchrist on the harp; Seph Peters with guitar, mandolin and banjo; and Nic Gareiss percussive dancer.
Each performer has story to tell about their instrument[s] or their music. I felt as if the instruments were talking to us. Even the dancer's tapping, sliding, stomping, shooshing feet spoke a language that was mesmerizing.
What's quite astonishing is that small rural communities like Port Maitland (pop. under 500) can stage a world-class performance like this.
It's all thanks to a local volunteer group called the Hear! Here! Society who spearhead efforts to bring top notch performers to the region.  This particular concert was part of Music Royale's summer series around the province. Church leaders went out of their way to accommodate the group and make everyone feel welcome.
It was one of those rare concerts where you leave feeling heady and drunk. I haven't had a drink for 42 years but I left the church feeling rather woozy and light-headed.
I hope it's not another 10 years before I hear them again.