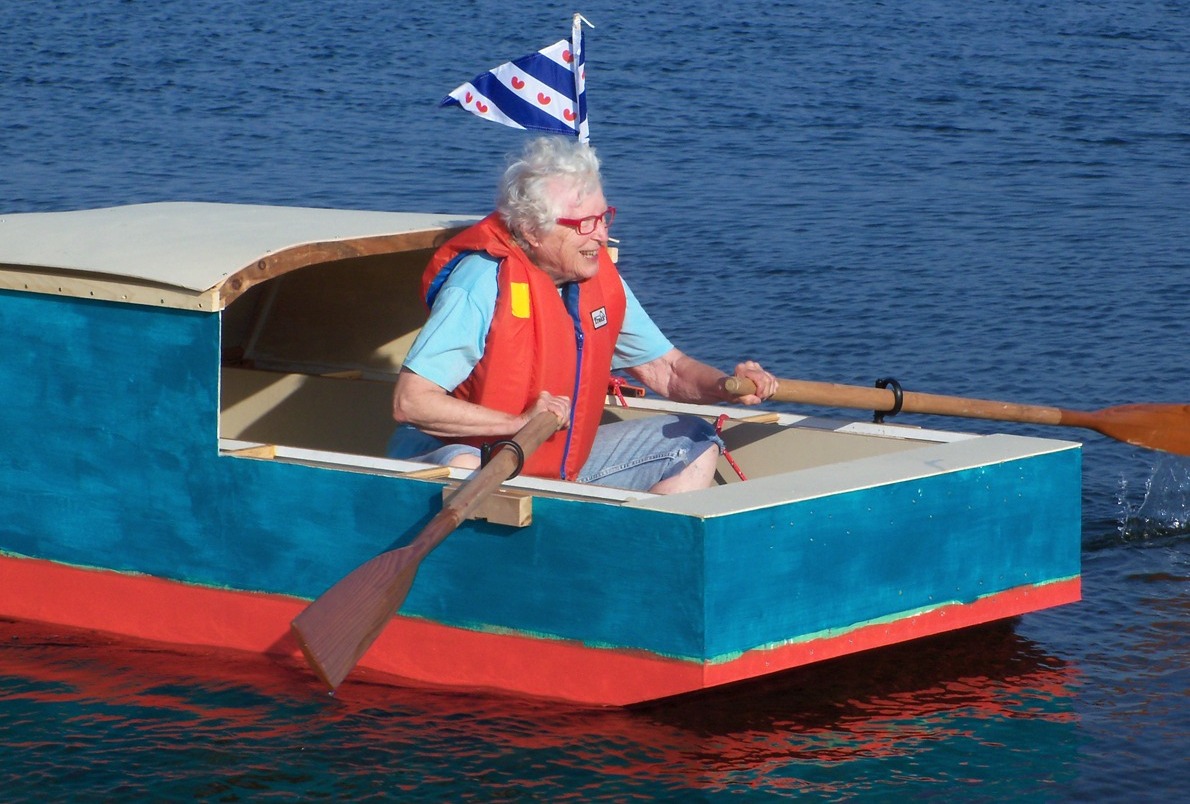 Another day of pure pleasure.  In part, due to spending time with Jennie Morrow—a  friend I've not had solo time with since God was young, and, in part, by meeting artist Helen Opie in Granville Ferry.
Helen has always dreamed of cruising to paradise. And she's going to do just that next summer. But this is not your ordinary cruise. Nor is Helen your ordinary 80-year old.
Helen will be sailing to Paradise, NS, in an 8- ft. boat she built, replete with mast and boom that she stripped and planed, and a sail made from an orange tarp. She's named her boat the Molly Kool—after Myrtle "Molly" Kool—North America's first registered sea captain or ship master.
Molly was born in Alma, NB and at the young age of 21, joined the Merchant Marine School in Saint John. What I didn't know was that in the spring of 1939, Molly graduated with her Master Mariner's papers from the Merchant Marine Institution located in my home town, Yarmouth! Not only that, as a result of being the first woman to be granted Master Mariner papers, the Canadian Shipping Act had to be amended to "he or she."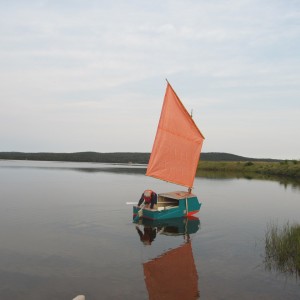 Helen simply refers to her wee boat as MK (short for Molly Kool.)  It's designed after a Puddle Duck Racer.
Although she doesn't intend to race, Helen does intend to embark on the "big cruise" in 2016 from Granville Ferry, and sail to Paradise NS via Bridgetown.
If the stars line up right, Jennie and I plan to be the official "escort" teams in our canoes with our husbands.  What a hoot! I can't wait.
(Helen provided the photos of her working on MK as I didn't see the boat in the construction or test stages.)
And here's Jennie in her studio (Morrow Gallery, Mavilette) pointing to one of her latest works of art. "These are called encaustics," Jennie says, adding: "They are made with beeswax." It's an arduous process but what amazing results!
Digging around a bit I discovered that this technique goes back to mummy portraits of Greco-Roman Egypt, and to Greek artists from 5th C B.C. who rendered mythological scenes and portraits on panels, marble, terra cotta and ivory—using wax in the process. It's also a great preservative so I imagine these paintings will last for eons.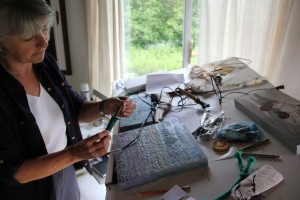 Hopefully Jennie will shed more light on this via the comment box!
Before the snow flies, take a drive up to Jennie's studio in Mavillette. Can't miss it. It's on the corner of the road that leads to Mavillette Beach.
Now … on the way home,  driving through Port Maitland around 5:30 p.m., I visited four places: Bartlett's Beach; some of the cemeteries I mentioned in last post for a photo shoot; Patti Durkee at Hubert & Belle's; and the Hook 'n' Sea Crafts and Gifts. I left Port Maitland at 10:30 p.m. You might be wondering what I did to occupy those five hours. If I can find my photos, I'll tell you. Stay tuned.