There are rocks … and there are rocks.
Although I don't own any jewellery made of Nova Scotia agate, I've long been a fan of the exquisite pendants and rings that John Hood creates (Scotia Gems) and always wondered where he found the rocks to cut and polish. So I invited myself and Barrie on one of his rockhounding expeditions. We met John and his wife, Nancy, at the Lake Midway Provincial Park along Digby Neck, about half way en route to the ferry that leads to Long Island (and, eventually, to Brier Island.)
As soon as we sidled up to John's truck and stepped out of the car, I got a big whiff of something that smelled like a cross between roses and lilacs. I inhaled a few times to catch more of the scent.  John smiled, saying, "That's Sweetbriar. It's all over the place here. Olive Quickfall brought some to Yarmouth back in the 50s."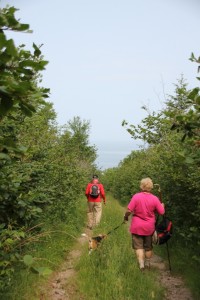 Close by was a private lane leading to Riley's Cove so we headed in that direction until we couldn't drive any more. (And yes, John had permission!) Then we hoofed 'er along with Scooter, the hound.
There's an interesting yet tragic story associated with Riley's Cove. During a nasty Northeast blizzard in February 1946, the SS Robert G. Cann sprang a leak near Grand Manan and started to sink.
The crew of 13 boarded a lifeboat and were tossed across the Bay of Fundy to Riley's Cove. Eleven died from exposure before reaching shore, including Captain Emery Peters from Yarmouth.
Only the second captain, Arthur Ells, and crewman Peter Muise, were alive. Ells worked his way through the woods to a home on Digby Neck and the RCMP were called in from Digby. Ells and Muise were taken to the hospital in Digby, but only Ells survived. Although there used to be a cairn to commemorate the event, only a couple of wooden crosses remain.  Photo John Thurber, ancestry.com
Back to Rockhounding 101.
"Look for red stones and brown stones," John says. He taps one with his walking stick adding, "There's one right under your feet. That's a good piece; it's a banded agate. See how hard and shiny it is? That's a good thing. Porous agate is not good."  Hard to believe that these rocks can turn into a creation  that looks like this to the right. 
I marvelled at the colours, and could see the layers of agate although in rough form. This surprised me, as I always thought that you had to crack a rock open to find the agate. Not so.
Agates are found on this coast because of three lava layers that flowed in the region. I learned that the best agate comes from the top and middle layers of volcanic basalt. On the south shore, however, the rocks are mainly granite; hence, you won't find agates there.
Once my eyes got adjusted, it was easy to spot the agates, which ranged in size from the size of a dime to the size of a golf ball or small apple. Rockhounding was followed by a picnic on the shore before we headed back up the ridge and returned to our vehicles. Another "wow" excursion.
For those who are looking for agates on public property, head to Trout Cove and Gulliver's Cove, both in Digby Neck. They are clearly marked.
Later, on the way home, we turned into Weymouth again. (Remember I said there was more to Weymouth coming up?) Well, the ulterior motive was to visit Virginia Smith at Hug Your Nanny Goat Cheese, and to see Bailey, a Great Pyrnees pup that will be moving in with us in August. Right now he's only five weeks old. But what a brute! I won't go gushing on about the pups. But let me tell you about Virginia.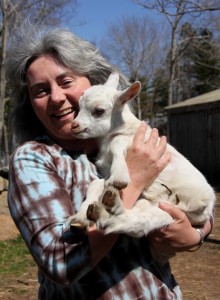 In 2002, Virginia bought an abandoned, garbage-strewn property on the Weymouth Falls Road. Once the property was cleaned up she bought a horse. Eventually she bought a couple of goats, and started to raise and breed them. This was familiar territory for Virginia as she grew up on a small farm in Newfoundland. Gradually, she made cheese for home use. "Everyone rolled their eyes when I served them the cheese I made and commented on how fresh and tasty it was! They'd never had anything like it."
Fast forward to today: Virginia manages around 120 goats and has a commercial cheese making facility where she produces fresh goat cheeses flavoured with garlic and herbs (her own, or purchased from Stewarts Organic Farm in Hortonville.) She also produces Romano (a hard, aged cheese), surface-ripened French style cheeses, and feta cheeses. Her latest is "Feta Fusion" which consists of marinated hunks of feta marinated in infused oils with local cranberries, herbs, black Spanish olives and a splash of balsamic reduction.
Currently Virginia sells her products at her farm, and also at farmer's markets in Wolfville, Hubbards, Alderney Landing, the Halifax Forum, and Yarmouth. She's had a life-long commitment to buying local, the slow food movement, and educating people about where their food comes from.
How did the name Hug Your Nanny Goat Cheese surface? Virginia once had a goat named Annabelle who refused to be milked after her babies were weaned. She kicked and kicked and wouldn't cooperate. "One day, my helper leaned over Annabelle and gave her a hug. The goat stopped kicked and fussing." For weeks afterwards, it took two people to milk Annabelle; one to hug her and one to milk her but she eventually came around.  "That showed me that there's no problem too great that can't be remedied with a hug. And that's where the name of my business came from."
When we left her farm, we decided to drive further along on the Weymouth Falls Road. It was like driving through a time warp. Some homes have been abandoned—as if people walked out of the front door one day and simply never returned. Some are boarded up. I felt a sense of sadness, and wondered: "If these old homes could speak, what would their stories be?"
Likely most of the stories are buried with their owners at the Mount Beulah Baptist Church Cemetery, on the same road. It's a lovely place, tucked away in a clearing in the woods at the end of a tree-canopied road. It was evident why the cemetery is also called "Peaceful Valley."
By the time we left Weymouth late that afternoon, we were hot and grimy. I remembered hearing about a swimming hole in a gorge in Meteghan called "la montagne," and actually had some rudimentary directions to get there. But at some point we were hopelessly lost so we stopped at a Quick-Way store to ask directions. As the crow flies, we were fairly close, but it was a bit tricky to get there so the store owner kindly drew us a map with detailed directions.
It's not easy to find as there are no signs, no place to park, and you can't even see the river from the winding dirt road. But find it we did! If you look closely, there are paths that lead into the woods (and to the bank of the river overlooking the falls.) As I suffer from vertigo, I didn't venture down the steep bank at the falls or further down the road at "la montagne" (which has a rope going across the gorge and is the preferred swimming hole.)
But … further along the road I spied a path up a small bank. We got out to explore and a few steps through the woods we discovered a wide stream with a wee set of falls only about 2-3 feet high that spanned the width of the river. The best part? A lovely large pool of water in front of it with yet another small set of falls to the rear. I, less than 30 seconds I had stripped, waded in, and was blissfully floating around. "Coming in?" I asked Barrie, who's not big on skinny dipping. He just rolled his eyes. But for me, no clothes + no flies = perfection. Great way to end another delicious day.
ps: Want to find those falls/swimming holes? From Yarmouth, take the d'Entremont Road just before A.F. Theriault & Sons (shipyard) in Meteghan River. Travel the zig zaggy road until you see the steel bridge. Veer right before taking the bridge road. Then start looking to your left for small foot paths. Clear as mud? Call me.
pps: photo of the SS Robert G Cann–John Thurber, ancestry.com