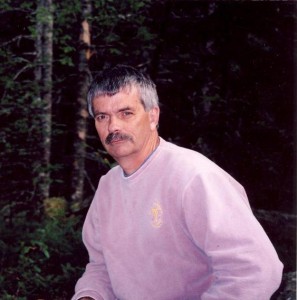 Twenty four years ago Mike Parker submitted his first manuscript, Guides of the Northwoods: Hunting & Fishing Tales from Nova Scotia, to Doubleday Canada Publishing Group. In a rejection letter dated August 30th, Editor Jill Lambert took the time to add, "P.S. I really did enjoy this manuscript; I thought it was well written and interesting. I'm sorry it's just not right for our list."
After researching other publishers, Parker zeroed in on Nimbus Publishing, walked in one morning, and dropped off the same manuscript. The next day he received a call to say it was accepted.  Fifteen books later, Parker is now doing presentations and giving readings based on his latest tome, Into the Deep Unknown: Land of the Tent Dwellers.
How does a historical non-fiction writer capture—and keep—the attention of readers?
I believe the key to writing non-fiction is to write about what interests you, the author—because if the author isn't into it, the reader won't be. I go into the research phase of every book without knowing much of anything about the topic other than it interests me, and I want to find out more. Then I try to pass that on to the reader. Thomas Raddall and Pierre Burton are two of my favourite non-fiction writers. Although I don't put myself in their class (nor do I copy any particular style), I do try to write in such a way the reader remains conscious, and their eyes don't glaze over.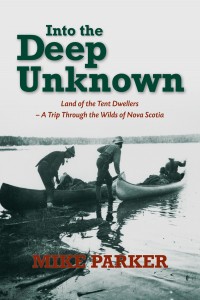 You clearly enjoy the thrill of the hunt—for information that is. Paint us a picture. 
While preparing my latest manuscript, Into the Deep Unknown, I really wanted to have a photo or two of Eddie Breck, one of the many characters in my book. I contacted Linda Miller, whose parents were former managers at Milford House where Eddie Breck used to stay. She suggested I contact Tim Coggeshall from the U.S. (a long-time guest at Milford House), whose wife's grandfather just happened to be Eddie Breck. Sure enough,  Tim Coggeshall—now in his 90's—had several photos of Breck and the guides; some dated back to the 1890's. Coggeshall agreed to bring them to Milford House that summer. When I saw them my heart pounded. I scanned photos for nine hours!
Have you ever discovered a "find" after-the-fact? And, if so, then what?
As soon as Into the Deep Unknown hit the stands, I met the granddaughter of Charles (the Strong) Charleton—who also appears in the book. She said to me, "We have a box of old photos the American sports used to send."  Lo and behold, the box included scores of photos of the old guides, guests at Milford House, and even a rare signed photo of Albert Bigelow Payne who penned The Tent Dwellers over 100 years ago. Although it would have been great to have some of them in the book, it's never too late to make use of them. So I've put them up on Milford House's Facebook page, titled "Land of the Tent Dwellers—Images From the Past." By doing so, I hope the public will not only have access to these photos, but that some can also be identified.
If memory serves, you talked about retirement … but rumour has it you're onto book number 16? 
Well now, it's like this. The last photo you see here was taken by Ralph Harris (1883-1958), a Bear River merchant and professional photographer who produced thousands of pictures throughout Digby and AnnapolisCounties, turning many of them into postcards.  Ralph's vast collection was lost in an early 1970s fire which destroyed several buildings in Bear River including his one-time store where the negatives and images had been kept in the second floor studio since his death in 1958.
This past summer, Ralph's niece contacted me and, when I went to visit her, she pulled out hundreds of negatives and prints she had been holding onto since the fire—the majority of which have never been published or seen the light of day since they were taken nearly a century ago. Talk about a treasure trove!
This past November, I was granted permission by the family to publish a book focusing on Bear River as seen through the camera lens of Ralph Harris. Pottersfield Press has agreed to publish the book (Spring 2015) which I envision featuring 300 of Ralph's images.  I am really excited about it, as the material is rich and original. If folks would like to know more about what I do, please connect to this site: www.smu.ca/gri/mparker
Stay tuned folks! And feel free to send some questions in the comment section (click "comments" under the title) for Mike to answer. He'd love to have a conversation with you.