Meet Lynn Ogryzlo, a food writer, cookbook author and culinary activist. She's eaten from roadside stands, village delis, the finest restaurants with postage stamp sized kitchens and has enjoyed many a meal in people's homes. For Lynn, food and wine is a delicious way to communicate and get to know the people of a region.
Lynn penned Niagara Cooks, a trilogy of local food books. The second in the series, Niagara Cooks, from farm to table, has won prestigious awards (more on this later).
The most recent release is Niagara Cooks, a seasonal attitude and celebrates the regions' seasonal harvests. Each recipe has a new grower story and is paired with a local wine.
Where and/or how did you develop and interest and passion for food and cooking?
I grew up holding onto my grandmothers apron strings. We're Italian by heritage and our family is large. I remember chickens running around the back yard and a garden larger than the house. We baked, preserved, canned and froze things for the winter. Agriculture and cooking was a huge influence in my life.
So when I was offered the job of food writer in the early 90's, the first thing I did was to look for a farmer, not a grocery store. I've seen agriculture fade away and fast food take over so I have always written about local food, farmers, harvest celebrations, etc.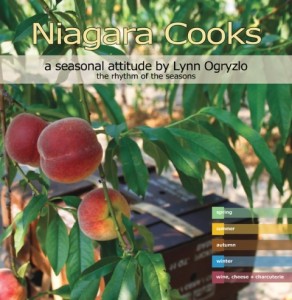 My weekly column has a great following so I decided to become a bit more vocal. Not that I had a burning desire to write a cookbook; it was more about promoting agriculture and a better way of eating. That's why I included a story of a farmer with every recipe—to connect consumers to the people who grow our food.
How did you go about finding a publisher?
I made a list of the five top cookbook publishers and went after them. They all said the same thing: "Sure, but if you insist on this local angle, we're not interested." But I wouldn't compromise. Then one day I met a man at a party who had a publishing background and I asked if he would take on my project. He said the same thing as the other publishers—so I poured him another glass of wine. At the end of the evening we had a deal: he would publish the book, I would do the sales. I called all the farmers I wrote about and asked them to sell the book at their markets in the summer; they agreed.
But then I found out the book was going to be printed in China. How could I live with a book on local food printed off shore? No way! So the publisher agreed to have it printed in Canada if I paid the difference. I knocked on doors of businesses I'd never met and asked them to pre-buy copies and give it away to their customers. I promised to put them in the book. I had my money in four days and we bumped up the first run to 5,000 copies. Before long it was flying off retail shelves. I discovered that the 12 businesses that helped me out had also put it on their websites and became ambassadors for the book giving it out to customers with a minimum purchase. Within six months we ordered a second shipment of 5,000 books. Then the award came. We sold more; ordered more.
You won the prestigious Gourmand Cookbook Awards: first for Best Local Food Cookbook in Canada; then a finalist for Best Local Food Cookbook in the World. How did this come about?
My publisher applied so I wasn't involved. But I do remember getting the email telling me I'd won. I thought it was spam. The next day I got a call from the publisher who confirmed it was true! We went to Paris to the ceremonies. I watched as they announced winners for Best in the World and there was my book, big and bold on the screen—I'd won second place. It was a magical night.
Any other thoughts you'd like to share?
I don't just write about food – if I did, I think I'd get bored pretty quickly. To me, it's a means to an end. I decided from the start that I wanted my book to be sold by farmers. I didn't like the idea that big business would make a profit from the stories of farmers and today I've been able to give back over $150,000 to agriculture through sales. With some of my own money ($14,000) I started an agricultural scholarship program to encourage a younger generation to consider farming.
If we don't have our farmers and the food they produce we'll be dependent on others like China and that thought scares the life out of me. I also scares me that today's younger generation can't cook so it's no surprise that cancer, diabetes and obesity is rampant. So I keep writing about good food giving them quick and easy recipes in the hopes I'm making a difference.
*         *         *
PS. If you have any comments or questions for Lynn, click on Comments and fire away!