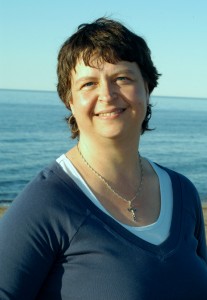 Jennifer Hatt was born in Halifax and raised in Liverpool, NS, earning her first writing award in high school for her short story of a family living in coal mining's shadow. Since 1992 Jennifer's articles have appeared in trade and general interest magazines in Canada and overseas and she's won several prestigious journalism awards. She lives in charmed chaos with her husband, three children, and three cats in New Glasgow, Nova Scotia.
Jennifer's novel, Finding Maria, is the journey of corporate executive Jack Brandugan who believes he has lived it all until paired with a ghost writer whose insights and creativity awaken his memories and reassemble his life into a path that takes them both by surprise. Learn more at www.findingmaria.com
I love to see writers jump into the entrepreneurial realm and "get things done." You clearly did this by setting up a publishing company, Marechal Media Inc., with a business partner. What prompted this decision?
The business partnership is the legal formalization of a creative partnership that began several years before, resulting in several corporate projects—and now, this book. Two years ago, when I finished the book's first draft, I sent three agent queries: one each to the largest agencies in Canada, the US, and Great Britain. Needless to say, I got polite form letters.
As I worked my way through draft two, it seemed to me that the effort I would put into finding an agent or publisher would best serve the book if we published it ourselves. I also liked the idea of maintaining creative control right down to the look of the cover and the number of pages.
The manuscript was professionally edited and printed in my hometown and delivered on Nov. 10, 2010.  Of our print run of 1000, about a third are now sold or on consignment in stores in Nova Scotia and PEI. Granted, the expense and the responsibility are solely ours, but the money we earn is also ours and is being reinvested so we can publish again.
I read on your site that Audrey Bunt, a well-known PEI artist, created your cover. How so?
My business partner had purchased work from Audrey in the past, and on a visit to her studio he spied a print that to him spoke of the story we were creating. He commissioned an original painting based on that print, something I knew nothing about until a PDF arrived in my inbox entitled: 'Book Cover'. I saw at a glance what he had seen. A month later, he presented me with the original painting. This was in 2008; the book was still in draft stage. The painting hangs above my computer, and there were days when it actually helped me focus the story.
Audrey has become a strong marketing advocate for us as well. Her efforts and connections have gotten us into Indigo in Charlottetown and into PEI newspapers, and she continues to be supportive as a colleague and a friend.
Where did you develop a penchant (and passion) for writing fiction?
Writing is just something I always did, and sadly, because it was always there, I had very little respect for it. In fact I spent most of my life ignoring the possibilities because I knew it would take 'too much work'. I became a non-fiction writer because the opportunity presented itself when I was in need of a job, and stuck with it because it served the purpose.
Then I met Jack, the main character of my novel. For the first time, I met someone who at first annoyed, then intrigued, then engulfed me in this blinding flash of limitless potential. I know, I talk about him as if he is real. To be clear, in this novel Jack Brandugan is a fictional representation but in real life he has become my muse. At the same time, readers see him as the resemblance or even the embodiment of someone they know.
So for the first time, I saw the power of a story to share, engage, inspire, or if nothing else, provide respite from the drain of everyday life. It is a passion that will not be ignored – believe me, I have tried! I have found in that struggle, however, that there is a gift in embracing the possibilities, no matter how irritating and confusing they can be. So, my passion has been discovered. The journey now is to channel it and occasionally, to cede control and allow it to sweep me away.
What's the biggest challenge in penning a good story?
For me, the first challenge was to accept that anything I wrote could be a good story, worth developing and sharing. I continue to struggle with this.
The next challenge was getting down on paper what I had been carrying in my head for years. I knew so little of the fictional writing process. I was used to the story being framed by an assignment editor, informed by the sources, double-checked by the page editor, read for a moment or two, and then recycled with the rest of yesterday's news. Suddenly, with this book, I had to come up with not only the actions and the conversations, but the reasons behind the characters' choices. I had to decide if they were going to pick up the phone or open the door and if so, who was on the other end, what they would say and where it would lead. Late at night, perfect scenes would run through my head but in the glare of the computer screen, they often vanished. Or, these characters who in my imagination were loving and adorable, came across on paper as selfish and thoughtless.
The final challenge was my ownership of the characters. I came to adore them and wanted the world to adore them as well, and often found myself avoiding certain story lines or scenes to protect them from a world I feared wouldn't understand. But readers need to be invited in, need to be made welcome, and I finally had to let the story be the guide and allow readers the courtesy of forming their own opinions.
*         *         *
If you have any questions for Jennifer,  simply click on Comments and fire away!